Greetings
In 2009, our company entered its 29th year of operation.
We would like to greet you on our website by introducing you our company since its establishment.
SUZUKI, Masao, executive director
January 2009
Establishment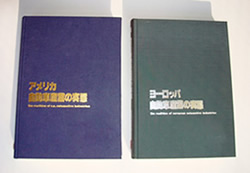 In September 1980, two young men, who loved cars and overseas travel, established a company called International Industries Information Institute by combining their interest with a profit making opportunity. Since they were recent graduates with no work experience, they entered the automotive industry with no prior involvement and accompanying knowledge.
The company's first project was called The Reality of the US Automotive Industry. The publication idea was proposed unexpectedly by a client of one of the young men who already started a printing business. Although the job required overseas information gathering, the two had great confidence in English conversation and translation. Since they already had experience converting English text into Japanese and traveling abroad alone during their school years, the project was completed in one year and published in October 1981. The book was 532 pages in A4 format. It was a thick book with thread-sewn binding printed by phototypesetting and offset technology and included graphs. Its retail price was set at 180,000 Japanese yen.
Specializing in the automotive industry
Despite being a high-priced research report, with a current value of 360,000 Japanese yen, it became immediately popular in Japan's automotive industry. As a result, all 200 copies were sold.
Speaking of the 80s, it was the time when US-Japanese friction in the automotive industry reached its peak. During this time, everywhere in North America Japanese cars increased their presence and tore down barriers. The until then unfamiliar major US rivals, the Big Three, were investigated for the first time in great detail by our research report. Therefore, the circumstances of the time helped along the project as well.
As the original name of the company, International Industries Information Institute, reveals as well, initially the company did not plan to specialize solely in the automotive industry. At that time, apart from the automotive industry, we planned to formulate research reports on various other US industries, such as the construction, public works, financial, agriculture, electric, and tourism sectors and translate the financial reports of individual companies.
However, the company's first product, The Reality of the US Automotive Industry, was highly rated by Japan's automotive industry and generated a strong curiosity and interest about our next project. At last, our second book was titled The Reality of the European Automotive Industry retailed at also 180,000 Japanese yen. Since this work was also highly rated just like the previous one, the International Industries Information Institute accumulated an image of being a company specializing in the research of the overseas automotive industry and contrary to the original plan of the persons involved, the company began its pioneering journey in Japan.
Consignment work for a major automaker
In the next few years, the company received contract work every fiscal year from the research department of a major automaker. Every year, this work consisted of introducing automakers across the globe broken down by country. The project amassed to about 200 pages annually and provided the bulk of the information published in the research department's Automotive Industry Handbook. In addition, the company produced special reports on foreign automakers, about 100 pages in length, for several years. These contract projects trained well the company's then inexperienced team including the two founders and rapidly turned them into automotive industry professionals.
Meanwhile the number of employees increased to around five and in April 1985, the company's name was changed to FOURIN, referring to the initial syllable of the four words in the company's original name, and it was registered as a corporation.
Launching monthly reports
In the beginning, the company intermittently published several types of research materials on North America, Europe, and Asia. However, their quality widely varied depending on short-term information gathering and the accuracy of the acquired materials. Also the industry had a strongly varying level of interest in research materials and the need for regularly-published research reports which would provide a stable income for the company grew by the year.
In May 1987, the company's "FOURIN's Monthly Report on the Automotive Industry" was published. At that time, the company had already been in business for seven years, therefore it had an extremely rich collection of materials relating to the global automotive industry and the staff reached a level of experience to confidently speak with professionals of the automotive industry. As a result, the company gathered the necessary skills to publish an approximately 50-page long product every month.
This monthly report (now FOURIN's Monthly Report on the Global Automotive Industry) reached its 22th volume in 2009. It was followed by FOURIN's China Automotive Data (now FOURIN's Monthly Report on the Chinese Automotive Industry) in April 1996, FOURIN's Monthly Report on the Domestic Automotive Industry (now FOURIN's Monthly Report on the Japanese Automotive Industry) in April 1999, and FOURIN's Monthly Report on the Asian Automotive Industry in January 2007. These four monthly reports are the principal products of the company and serve as the backbone its operations.
China Forum and Beijing FOURIN
The company's information gathering and research activity in China began a relatively long time ago in spring 1989. Although the Tian'anmen incident took place in Beijing in June of the same year, three months before that one researcher and one Chinese interpreter were dispatched by the company to visit all of the headquarters of China's automotive industry's then "Big 3 and Small 3" for the first time in history. The journey started from Beijing (BAIC), going first to northeast China's Changchun (FAW), from there to Tianjin (TAIC) and through Beijing to Shanghai (SAIC). From Shanghai the team went to inland China's Shiyan (DFM) in Hubei Province by train, a 12-hour ride one way, then to Guangzhou (GAIC) and finally back to Beijing. The total distance of the trip was over 8 thousand km and it took one month. Speaking of 1989, at that time China's annual vehicle production stood at 580 thousand units (8.79 million in 2007), including 28,820 passenger cars (6.29 million in 2007). Our company, regarding automotive production and sales, has recognized China's global importance since an early stage especially within Asia.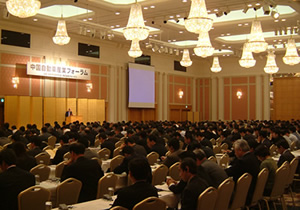 China Automotive Industry Forum (Nagoya City, Apr. 21st 2003)
After long years of exchange, our company invited five key personnel of China's automotive industry from Changchun, Beijing, Tianjin, Guangzhou, and Shiyan to Nagoya, Japan where FOURIN and the Japan Association for the Research on Automotive Affairs jointly sponsored the China Automotive Industry Forum on April 21, 2003. The forum was attended by over 550 people representing the Japanese automotive industry, becoming a major exchange event in deepening friendship between the Chinese and Japanese automotive industries. The invited guests were three automaker representatives, Zhu Weicheng (FAW's deputy chief engineer), Miao Wei (DFM's president), and Lu Zhifeng (GAIC's president); and two government officials, Sun Peng (Ministry of Commerce – Department of Foreign Investment Administration's vice president) and Huang Yonghe (China Automotive Technology & Research Center – Automotive Technology Information Institute's official).
Six months after this event, our company established its Beijing office, presently called Beijing FOURIN Automotive Consulting Co., Ltd., which functions as a Chinese corporation.
Tokyo Motor Show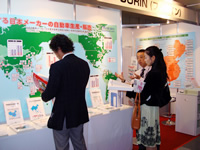 Tokyo Motor Show (2007)
In Japan, our company has been exhibiting at the Tokyo Motor Show's newspaper and magazine corner at every occasion since 2001.
In 2007, we exhibited 17 of our newest research materials making them accessible to visitors, and each of our chief editors of monthly reports arranged 30-minute meetings with our regular clients.
Functioning as a research company of overseas issues
Founder, Niiyama Hitoshi, and the current head of the 2nd
research department, Tanaka Yachiyo
(Frankfurt, Sep. 11th 1998)
Needless to say that we attend the auto shows in Frankfurt and Detroit every year and visit government officials, automotive associations, vehicle and parts makers in the US, Europe, and Asia. We also regularly dispatch our researchers to Central and South America, Africa, and other regions to meet local automotive industry professionals and officials. Although we also regularly subscribe to various general as well as business newspapers and magazines, industry papers, and company reports, our on-site fact collecting activity has become a very important part of our independent information gathering. Sometimes our monthly reports and special research materials include interviews in order to introduce fresh Q&A dialogs.
In addition, our company obtains monthly or annual production and sales data through purchase from governmental sources and automotive associations across the world, as well as through exchange for some of our research materials. Our diverse database by segment, company, and model included information from 73 countries as of January 2009. Our staff is making strenuous efforts to increase the number of countries in our database.
Accompanying the internationalization of the Japanese automotive industry
Our company is a Japanese enterprise and in principle it was originally established as a Japanese-owned, Japanese-dependent, and Japanese-oriented entity. As time passed, the Japanese automotive industry commenced full-scale product exports and with localization since the 1980s the Japanese automotive industry's internationalization got underway. Our company has been progressing and growing in parallel with the Japanese automotive industry.
While we mainly focused on North America in the 1980s, we expanded our business scope to Europe in the 1990s and to Asia at the dawn of the 21st century. Whatever way the Japanese automotive industry turns its attention, our company constantly adjusts its focus to the same direction. If anything, at times our company often precedes the industry by dispatching staff to locations around the world and reporting on the local state of affairs as a response to one of FOURIN's primary goals of producing consistent overseas research which has been supported for a long time by Japan's automotive industry.
Today, the number of companies which subscribe to our four monthly reports exceeds 1,500. In addition, over 2,000 companies purchase our ten or so special research reports which we publish annually. Since most of our research reports are published in Japanese, mainly Japanese companies use our publications, but some foreign enterprises which employ Japanese staff make use of them as well.
Company policy and basic business process
Although the four fundamental rules of our company policy have been consistent and have not changed since the company's establishment, the third (Our company does not use data which is not publicly assessable.) and fourth (Our company does not take part in legal disputes and does not violate the laws, regulations, and customs of countries in question.) paragraphs are especially important. Although we are called a research company, we pay more attention to the process of information than to the actual value of each piece of data. Naturally, our company is not involved in stealing company secrets or in industrial spying.
Our company believes that news is just fragments of information. Daily industrial and company news, transmitted by newspapers, magazines, and other news media, is nothing but bits and pieces of information in chronological order regardless of the importance of each news item. As mentioned earlier, our company's daily activity relies on these basic pieces of information, therefore we do not hide that we depend on other companies' news reporting.
However, our company's work starts from here: 1. starting from the translation of foreign-language materials into Japanese; 2. evaluating the authenticity of bits and pieces of information from several sources, 3. incorporating new information with information in the company's database into the actual report, and with the writer's opinion; 4. following the direction of editorial meetings and creating easy-to-understand graphs, tables, boxed text, lists and other materials in line with the topic; and 5. finally writing the actual report in addition to an easy outline and commentary based on all the preliminary work. This is the basic process of how our reports are written.
Unparalleled research know-how
Nearly all research and analyst companies are led by representatives who formerly headed major automotive industry-related enterprises or by renowned scholars and researchers. Almost all of these businesses belong to the consulting industry. For active-duty key executives, management advic by industry experts has priceless value. However, our company's work and our business aim is not to imitate this type of "management instruction," but to report events occurring in the global automotive industry in an accurate, reliable, and easy-to-understand form.
In addition to the basic process of report making as it is detailed in the preceding paragraph, report editing is based on various original ideas generated by our company. For instance, the strict application of editing policy on the one-page and two-page layout of regular monthly reports gives an easy-to-read and easy-to-understand structure to our publications. Also, as a general rule, the one-page layout is divided in a one-to-two ratio between the main text part and the facts-displaying part which consists of graphs, tables, boxed text, and lists. In addition, all titles are clear and concise sentences abiding to a series of in-house company rules. This standard title display is always observed and is reflected in the table of contents on the front cover of monthly reports.
Also including our above-mentioned overseas information gathering activity in this way over a quarter of a century, our company has created a unique research know-how which is exceptional in the world. It is a paradox, but as it was revealed in the beginning, before the establishment of our company in fact we had absolutely no relation to the automotive industry. If anything, it was an "innocent" trial and error experiment which led to this result.
Occasionally we are told that our research reports are expensive. Almost all of our research reports are printed matter, so if considering our book budget and material cost we indeed understand this opinion. However, our company's research materials which have been gathered over the years are by no means the only expenses included in the book budget and material cost. Our above-mentioned research know-how is included as well as design, planning, inspection, and verification of our overseas business projects and management strategy, which in turn requires consultation, training, and decision-making.
Independent business
Since the establishment of our company there have been many people who thought that there is some kind of a "relationship" between our company, which was established in Nagoya City, Aichi Prefecture, the birthplace of the company's founders, and Toyota Motor Corporation which is located in the same prefecture. Also, as mentioned above, in the early years of our company's history, we had a close subcontractor relationship with a major Tokyo-based automaker which prompted rumor that we are a "spy company" for the Tokai region, the area where the above-mentioned major Tokyo-based automaker is located.
However, our company has not had any special personal or financial relationship with any kind of automaker, parts maker, or other companies and financial institutions since its establishment. As a company which makes information and research its fundamental business, any particular relationship with any business would take away our "independence." In other words, for a company that wishes to grow together with Japan's automotive industry it would be an "act of self-destruction."
Although in the past our company was in an annual contract relationship with a particular automaker, in the past 15 or so years we have not accepted any contract work in order to maintain our independence. Occasionally our company receives various business cooperation and joint venture offers from domestic and foreign entities as well as requests for special research, however, we want to maintain our independent business model.
Seven research departments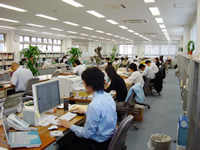 No partition, large open-plan style research
department (3rd floor of FOURIN building)
Our company currently has seven research departments. The First Research Department is in charge of China and plans, designs, and creates the FOURIN's Monthly Report on the Chinese Automotive Industry as its core product and other China-related special research materials. The Second Research Department is in charge of Europe, Africa, and the Middle East and plans, designs, and creates the FOURIN's Monthly Report on the Global Automotive Industry along with the Third Research Department which is responsible for the Americas and the Pacific region. Each department also publishes special research reports on regions under their management. The Fourth Research Department is in charge of Japan and publishes the FOURIN's Monthly Report on the Japanese Automotive Industry and other Japan-related special research materials. The Fifth Research Department is responsible for Asia and produces the FOURIN's Monthly Report on the Asian Automotive Industry and Asia-related special research materials. This division was set up in August 2006 and published its first monthly report in January 2007. The Sixth Research Department was established in April 2008. This department is in charge of the entire world and intends to research the automotive industry from a global standpoint. It is responsible for our Annual Statistics and Global Automotive Yearbook projects as well as works on new research reports such as the Global Passenger Car Model List, Global Automotive Market Development, and Outline of the Global Automotive Technology.
Our Seventh Research Department is in charge of English-language materials. It is responsible for translating monthly reports and special research materials of our six above-mentioned departments into English. It published the Asia Automotive Industry (Automobile) 2009 Yearbook in November 2008 and launched two monthly reports, the Asia Automotive Intelligence and China Automotive Intelligence, in January 2009. The Seventh Research Department plans to publish over four special research reports annually.
In addition, we have two non-research departments, our information system and sales department.
FOURIN library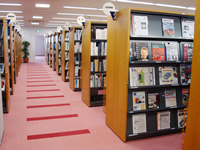 FOURIN World Automotive Library
(2rd floor of FOURIN building)
On the second floor of our company headquarters, the FOURIN World Automotive Library is located occupying approximately 330 square meters. A portion of the library is used as a multipurpose hall for lectures and other activities with a capacity of 40 people. The library houses automotive industry-related materials collected by our company from around the world in the past quarter of a century. In a sense, it stores all the primary data of our company's research materials.
Although until recently the library functioned as an in-house reference room for our research staff, it has been open to the public since June 2008 on a membership system basis.
Becoming Asia's FOURIN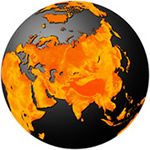 Currently our company focuses most of its attention on Asia. This region has an immeasurable automotive market potential in the 21st century. According to FOURIN's calculation, Asia is expected to realize annual vehicle sales of over 10 million units in ten years. Global automotive industry-related companies are keeping an eye on Asia, collecting information, drawing up business strategy, and making various feasibility studies. The era has just arrived when "the one who controls Asia, controls the world.
Our company has already established a wholly-owned subsidiary in China, and we plan to further strengthen our information gathering and research capacity in Asia, especially in India. Our company has been in business for a quarter of a century, and now we aim to grow further evolving from a "Japanese FOURIN" to an "Asian FOURIN" in the 21st century.
Starting with the automotive industry, we are humbly asking for your support and guidance in the coming years as well.