HOME
> Guide to PDF Subscription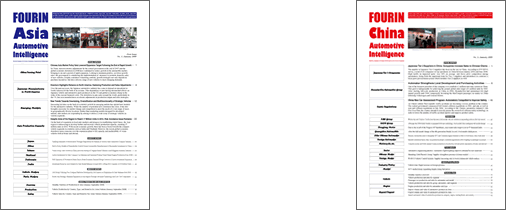 Click on covers to go to the subscription page for each monthly publication.
Guide to PDF Subscription
This web page provides guidance for subscribing the online version of all AAI and CAI issues.
We offer "view-only type" as well as "printable type" subscriptions. Please click highlights to view sample pages.
"View-only type" PDF data can only be viewed. It cannot be printed or screenshot.
"printable type" PFD data can be viewed as well as printed and screenshot.
Registrants can subscribe each report on this website by clicking "summaries" or "displayed search results."
Registrants can view monthly reports published during their respective subscription period even after their subscription ends.
After placing an order, users can start using our services as soon as they complete user registration.
Prohibited e-mail registration and use practices:

Using the same e-mail address by multiple users.
Using multiple e-mail addresses by the same user.
Registering with free e-mail accounts.
Other practices listed in "FOURIN Copyright Guidelines."
【 Price List(One-year basis)】
Publication
Type
Registration
Price
Additional
AAI
Printed version
-
192,000JPY
96,000 JPY
PDF version (printable type)
per person
192,000JPY
96,000 JPY
PDF version (viewable type)
per person
96,000JPY
19,200 JPY
"Price" refers to the subscription of a single item. VAT is added to orders from Japan.
"Additional" refers to optional items ordered during subscription of printed or printable-type PDF version.
During subscription of printed or printable-type PDF version, up to four users can register for viewable-type PDF version.
We offer special group discount for ten or more subscribers from the same entity. Please contact our sales department for more details.