HOME
>
Shanghai Motor Show 2009
Shanghai Motor Show 2009
"Photo / Video Report" (by FOURIN research team)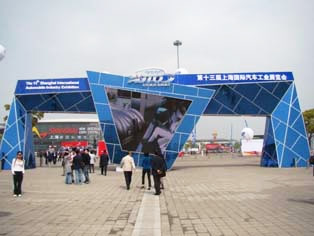 Front gate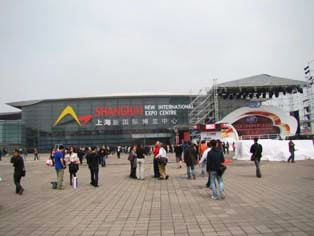 Main gate and the event's opening stage
Event Atmosphere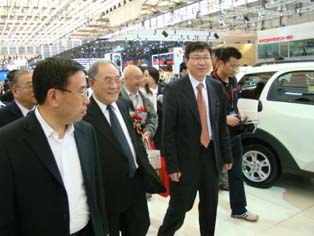 Yin Tongyue, general manager of Chery Automobile, guides guests at the company's booth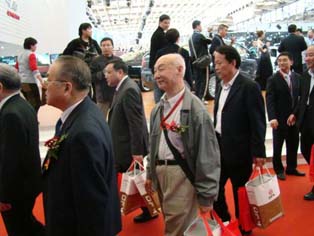 Industry guests visit the booth of an independent vehicle brand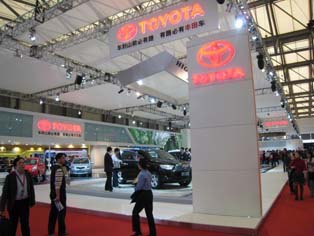 Lavish booth of Toyota which put 30 models on display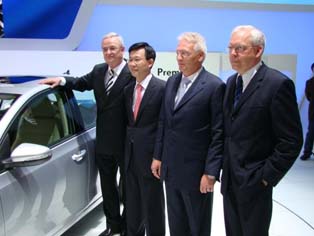 Executives of Volkswagen take a commemorative photo after the announcement of a new vehicle
FOURIN Booth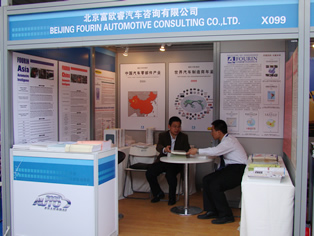 FOURIN booth 1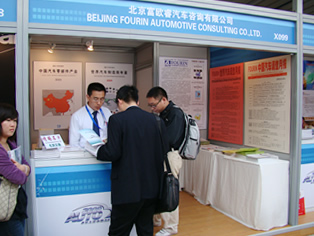 FOURIN booth 2
The 13th Shanghai International Automobile Industry Exhibition (hereinafter referred to as Auto Shanghai 2009), held at the Shanghai New International Expo Center, was open to the public for seven days between April 22 and 28, 2009. The event was preceded by two days of press days on the 20th and 21st.
Regardless of the current global economic downturn, the number of exhibitors at the show including vehicle and parts manufacturers as well as the media reached 1,500 (1,300 in 2007) and total booth area was 170,000 m² (140,000 m² in 2007), surpassing the previous event in both aspects.
While in January of this year, seven companies, Nissan, Suzuki, Mitsubishi Motors, Land Rover, Porsche, Rolls-Royce, and Ferrari, were absent from the Detroit motor show and to the surprise of many General Motors, Ford, and Chrysler said that they would not participate at the Tokyo motor show in October of this year, at Auto Shanghai, which is said to be one of the world's three largest motor shows, all of the above-mentioned automakers took part. It reconfirms the importance of focusing on China's automotive market by global automakers in their global strategy.
By the way, although year-round growth rate of China fell to a single digit in 2008 due to the slowdown of China's automotive market since the second half of the year, the government's fiscal action in early 2009 as well as promotional measures of the automotive industry revived positive growth in February. In March, production and factory shipment each exceeded 1 million units, registering historic highs for a single month.
In anticipation of quick recovery of China's automotive market, BMW, Audi, General Motors, Toyota, Volkswagen, and other global automakers displayed world premiere models at Auto Shanghai 2009 and announced models scheduled to be locally manufactured one after another. Of these, the BMW 760Li, BMW X5 M, new Audi Q7, new LaCrosse, new Fiesta sedan, new Passat Lingyu, new Golf, and new Crown attracted widespread attention.
Similarly to the bullish product strategy of foreign automakers in China, Chinese automakers announced many new products in an effort to explore niche markets. Chery Automobile which has just started its multibrand strategy with the Chery, Riich, Rely, and Karry brands exhibited 32 models. Geely Automobile appealed its new brand image through the "New Geely" theme. In correspondence with its high-end product strategy, Geely Automobile displayed the Gleagle, Emgrand, and Shanghai Englon brands. In addition, BYD Auto held the world premiere of the M6 MPV. Although BYD Auto cannot compete with Chery Automobile and Geely Automobile which concurrently unveiled several new products, Wang Chuanfu, president of BYD Auto, emphasized to double sales to 400,000 units in 2009 compared to 2008 sales result. Moreover, in correspondence with China's Qiche Xiaxiang or "Automobiles to the Countryside" measure, local automakers' mini vehicle strategy shifted into full gear. With the announcement of new products, Chery Automobile and Haima Automobile officially entered the utility vehicle sector, aiming to capture the share of SAIC-GM-Wuling, CHANA, and others.
April 20, 2009
European / North American Models

The first China appearance of the new Golf accompanied with dance performance ※ Sound plays during video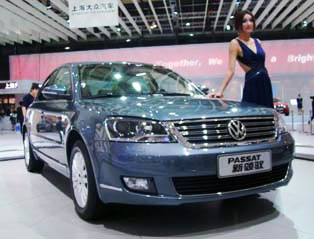 Newly unveiled new Passat Lingyu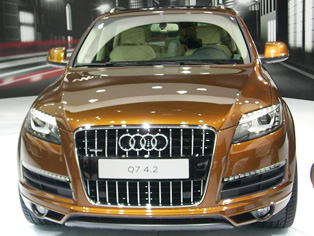 World premiere of the new Audi Q7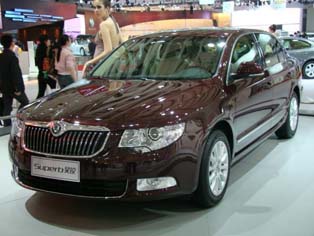 Shanghai VW's newly introduced Skoda Superb Haorui
New Buick LaCrosse (World premiere)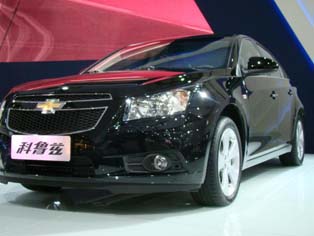 Chevrolet Cruze's sales launched concurrently with the motor show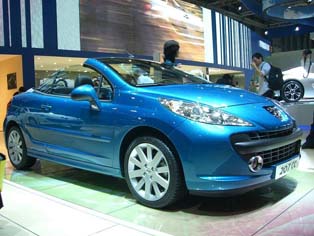 Peugeot's sporty 207CC model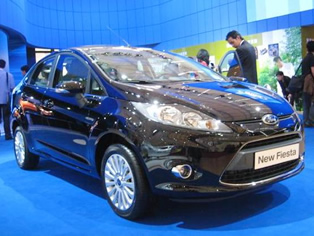 World premiere of Ford's sedan type new Fiesta for the Chinese market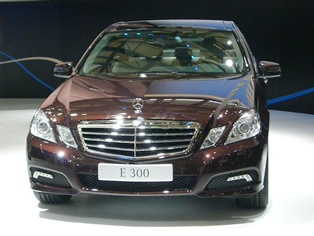 Mercedes-Benz E300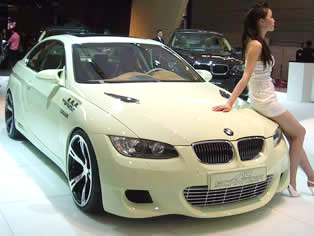 BMW AC Schnitzer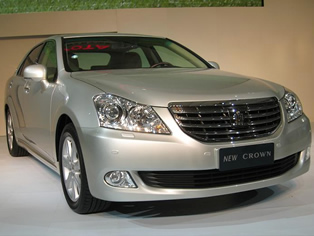 First China appearance of the new Crown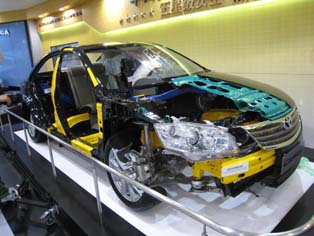 Cutaway model of the Camry appealing collision safety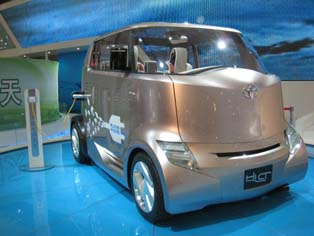 Toyota's concept car rechargeable with household electrical source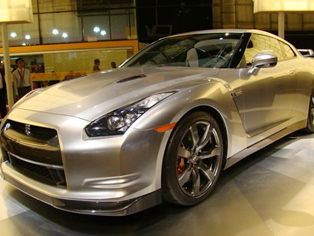 Nissan's GTR luxury vehicle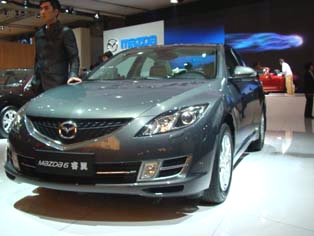 Mazda6 Ruiyi, new Chinese version of the Mazda6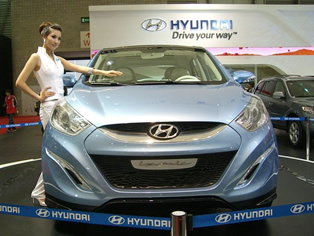 Hyundai's concept car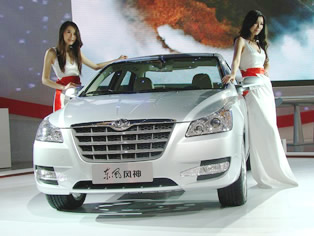 Dongfeng Fengshen, unveiled as Dongfeng Motor's independent brand vehicle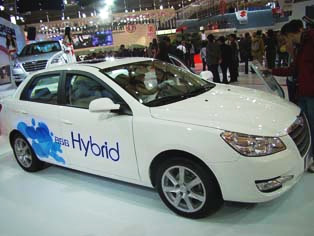 Dongfeng Fengshen, Dongfeng Motor's independent brand hybrid vehicle

Appearance of the Yuexiang driven by Xu Liuping, president of CHANA ※ Sound plays during video

Wang Chuanfu, president of BYD Auto, at the unveiling of the M6 ※ Sound plays during video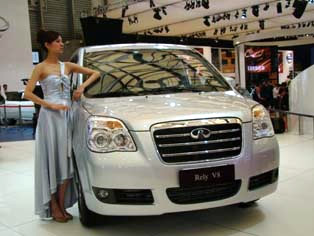 V8, unveiled under the new Rely brand of Chery Automobile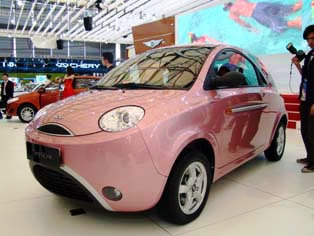 QQ mm, new model of the QQ series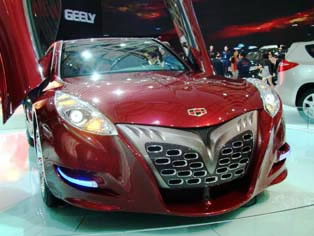 Emgrand, Geely Automobile's new luxury brand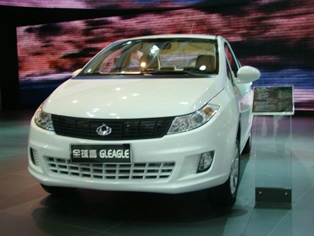 A segment model, unveiled under the new Gleagle brand of Geely Automobile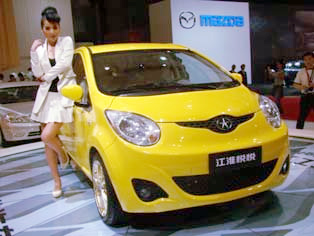 Yueyue, Jianghuai Automobile's first A0 segment passenger car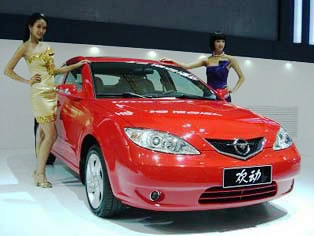 Haima Automobile unveils the Happin 1.6VVT