HOME
>
Indonesia International Motor Show 2014
Indonesia International Motor Show 2014
"Photo Report" (by FOURIN research team)
Venue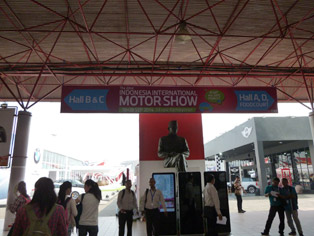 Main entrance of the 22nd Indonesia International Motor Show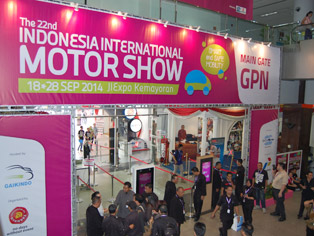 Venue entrance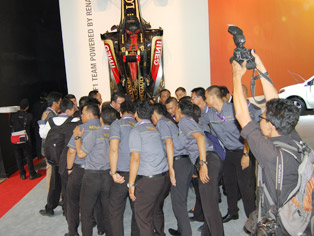 Renault staff forms a circle to wish for a successful event prior to opening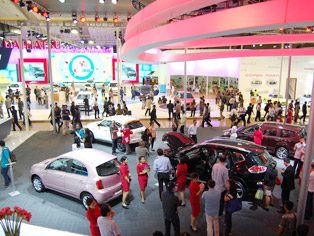 Venue shot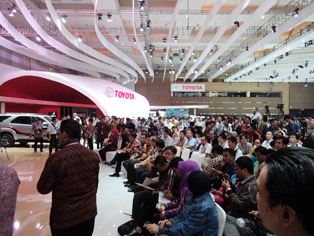 Waiting for press release at Toyota booth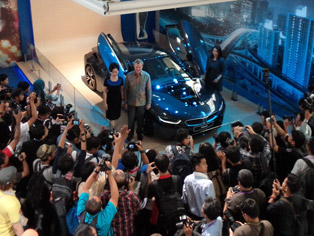 Photo shoot after press release of the BMW i8
Indonesia International Motor Show Opened! Companies Employ Disparate Sales Strategies
The 22nd Indonesia International Motor Show 2014 (IIMS 2014), held at Jakarta International Expo, opened on September 18, 2014. Thirty five automakers including Japan's Toyota, Honda, Daihatsu and Hino exhibited at the event with an emphasis on LCGC-compliant models which are promoted by the government and MPVs and SUVs which are highly popular among Indonesians. The show ended on September 28 until which automakers display and sell their vehicles and Denso, Clarion and other parts suppliers showcase their products.
Looking at press releases at the motor show, while there was an emphasis on LCGC models at the previous show in 2013, the heavy presence of high-end MPV and SUV models attracts attention, implying automakers' upcoming strategy. Main exhibitors, namely Toyota, Honda, Nissan and Mitsubishi displayed the RAV4, HR-V, X-Trail and Delica models respectively. Regarding LCGC models, Datsun had a separate booth from Nissan and Suzuki announced the Karimun Wagon R GS. In addition, Daihatsu made the new Copen as the centerpiece of its exhibit and Mazda announced the Mazda2 following its introduction at the Japanese market, showing interest in Indonesia's highly popular small vehicle market.
Although market scale of the high-end segment remains to be small, luxury vehicle makers stepped up their presence at the show. While Mercedes-Benz, BMW and Audi presented their full lineup, Infiniti, Alfa Romeo, Jeep, Jaguar, Land Rover and others exhibited their core models.
Korea's Kia, which has been planning active entry into the market, displayed only already existing models. After the company's announcement, Kia's director revealed that the automaker will make the next step after seeing the policies of Joko Widodo who is going to be named president of Indonesia in October. Since fuel prices are projected to be increased after the new president takes office and future government policies are unclear, Kia plans to decide on new launches depending on the future direction of Indonesia in an effort to conquer the market. This time only the existing lineup was displayed to showcase Kia's capacity to visitors.
Last year, sales at the exhibition increased 7 percent compared to the previous year to an historic high of 4.9 trillion IDR. In addition, 19,000 vehicles were sold and 374,000 visitors attended the event. In 2014, more vehicles are expected to be sold than last year.
September 19, 2014
Japanese Automakers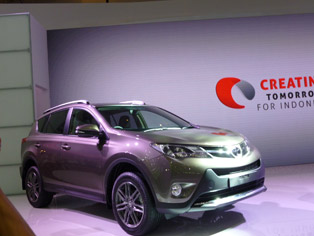 Toyota launched the fully-modeled RAV4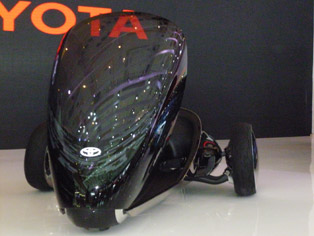 Toyota Fv2, a single-seat concept, unveiled at the Tokyo motor show in 2013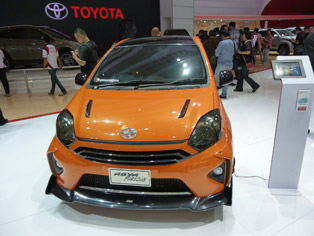 Toyota Agya Furious, bumper and grill design differs from the commercially available version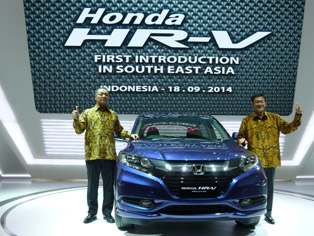 Honda HR-V, unveiled for the first time in Indonesia, first launch in Southeast Asia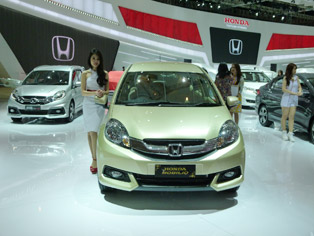 Honda also exhibited the Mobilio which continues excellent results in Indonesia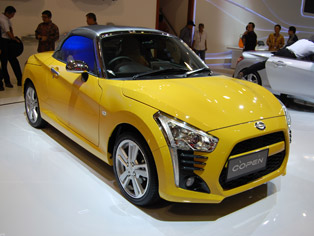 Daihatsu Copen, the yellow model contains carbon parts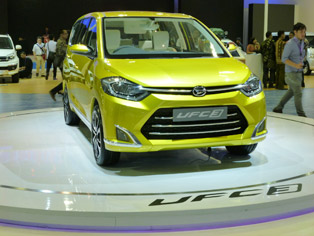 Daihatsu UFC3, an MPV concept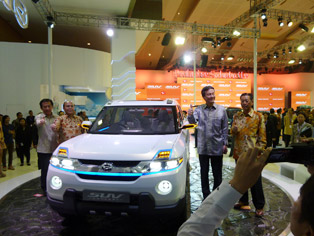 Daihatsu SUV Concept with occupant capacity for seven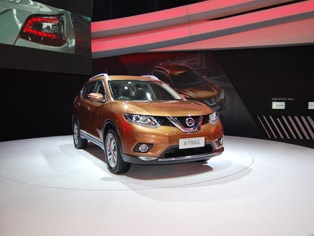 Fully-remodeled Nissan X-Trail with LED headlamps and around-view monitor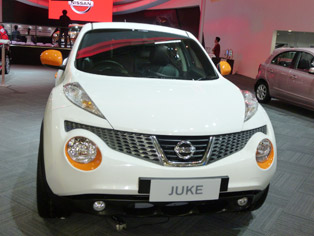 Nissan Juke, highly popular among young people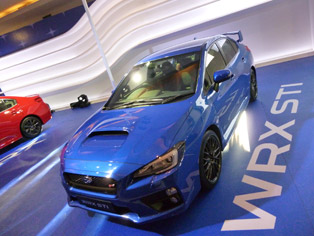 Fully remodeled Subaru WRX STI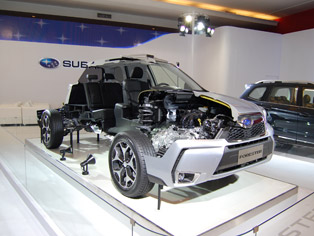 Subaru displayed the cutaway model of the Forester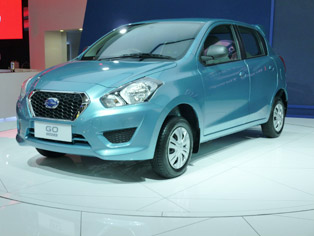 Nissan's LCGC model the Datsun Go Panca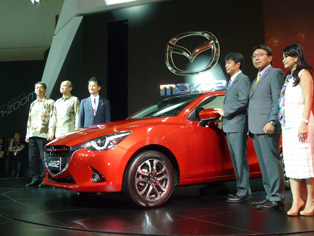 New Mazda2 launched following its debut in Japan. Advance reservation to start in November 2014.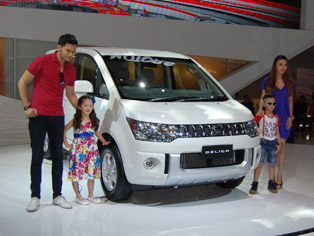 Keeping families in mind, Mitsubishi announced the Delica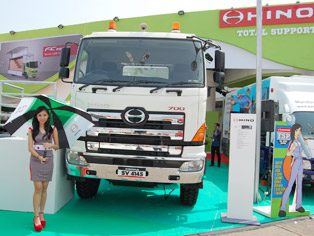 Hino exhibited 700 Series truck model
EU/US/Korean/Indian Automakers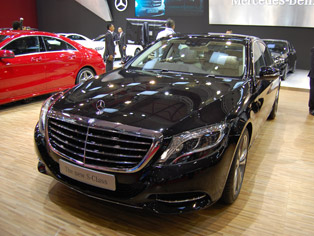 Mercedes-Benz displayed almost its full lineup including the S Class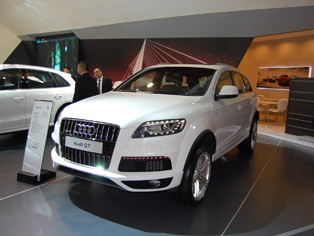 Audi displayed almost its full lineup including the Q7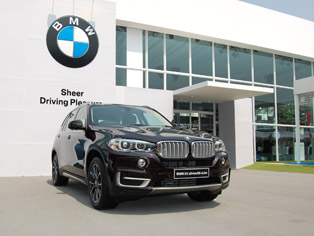 BMW built its own building separate from the main venue to display its lineup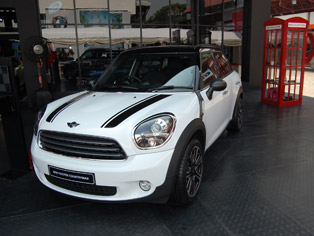 Mini built its own building separate from the main venue to display its lineup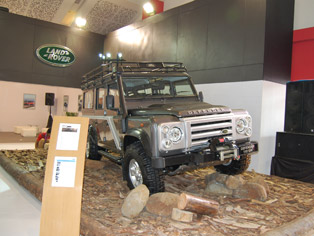 The display of Land Rover's Defender emphasized performance under bad road conditions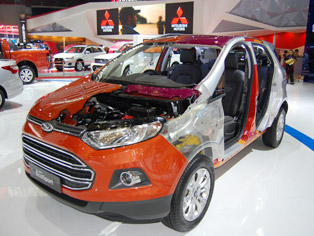 Ford exhibited a cutaway model of the EcoSport to emphasize safety in an effort to strengthen sales to families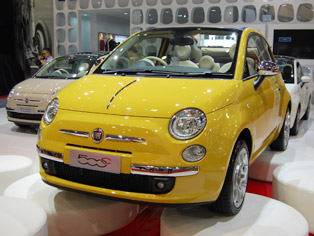 Fiat exhibited the 500c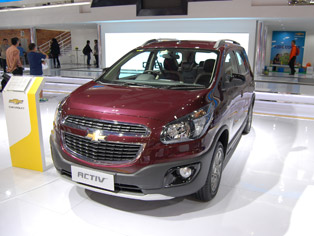 Chevrolet, which steps up sales in Indonesia, displayed the Activ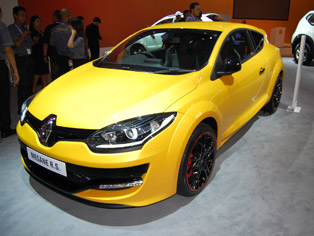 Renault, which is actively entering Indonesia, displayed the Megane among other models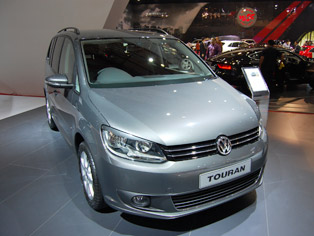 VW, which aims to boost share, exhibited the Touran among other models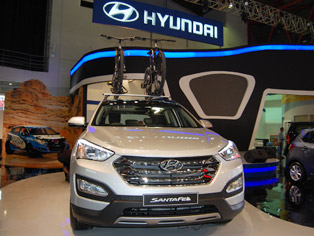 Hyundai Santa Fe's display showcased an atmosphere of family outing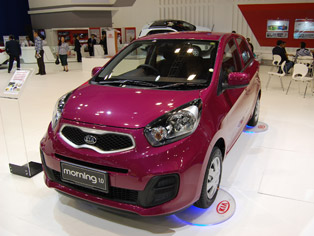 Kia exhibited only existing models, including the Morning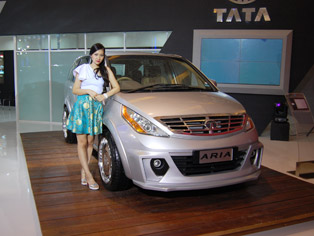 Tata, which aims to boost share, exhibited the Aria among other models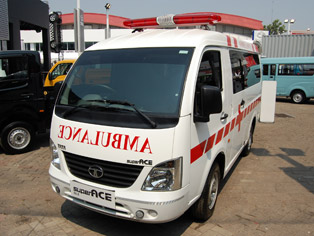 Tata exhibited am ambulance version of the Super Ace to draw attention to its versatility
FOURIN Booth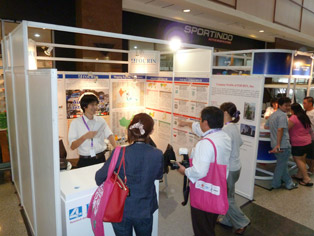 Many visitors stopped by at FOURIN's booth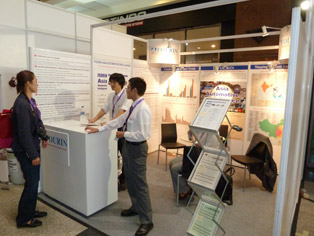 Visitors also came to ask about the current situation of the automotive industry