HOME
>
18th Taipei International Auto Show
18th Taipei International Auto Show
"Photo Report" (by FOURIN research team)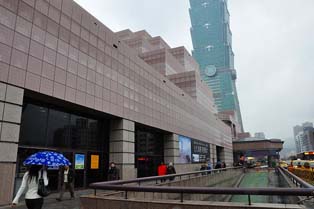 Taipei World Trade Center Exhibition Hall - site for this year's show, with Taipei 101 Tower in the background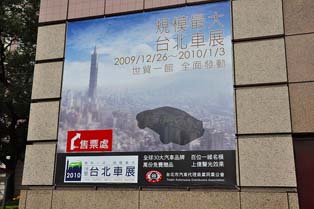 Event poster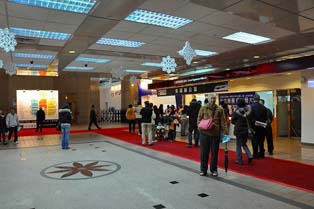 Concourse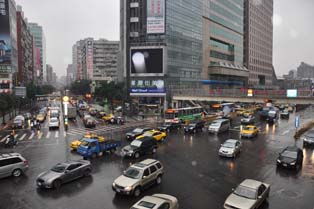 Nearby Taipei city intersection - the overwhelming presence of Japanese brands is easy to see
2010 Taipei Auto Show - proclaiming China-Taiwan co-operation
The 18th Taipei International Auto Show was held in Taipei, Taiwan over nine days from December 26, 2009 through to January 3, 2010. FOURIN's research team attended the show during general admission on December 28. This year's show saw local distributors exhibit more than 100 vehicles from 29 global brands, including models from Japan, Europe, the US, Korea, China and Taiwan.
The local show, organized by the Taipei City Automobile Dealers Association, had not previously captured such global attention. At past events, focus was on exhibits by imported vehicle dealers from northern Taiwan, with little participation from major overseas automakers - merely a marketing opportunity to boost sales for local dealers. However, this year's event marked two significant milestones for Taiwan's automotive industry and market, namely (1) Yulon's debut of independent brand Luxgen's world premiere model, and (2) display of models by China's Geely and Chery assembled locally on consignment. These groundbreaking announcements sparked domestic and overseas industry attention.
Taiwan's vehicle market in 2009 is forecast to see full-year sales at around 290,000 units, a recovery of more than 25% on the 230,000 units recorded in 2008 when the financial crisis and credit squeeze took a heavy toll. In 2010, while anxiety within the industry is mounting over the direction of sales after the preferential tax scheme on the purchase of small cars end, it is difficult to judge whether the start-up of independent Taiwanese brands or the introduction of products from China will revive the market.
Following are images of main content of the show.
December 28, 2009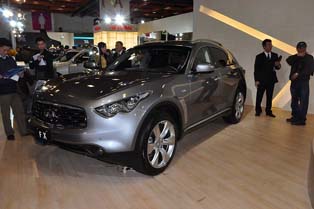 Infiniti FX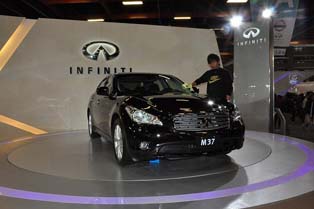 Infiniti booth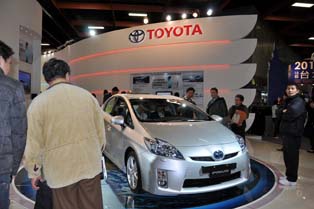 3rd-generation Toyota Prius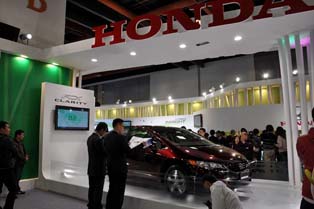 Honda displayed the Insight and a fuel cell vehicle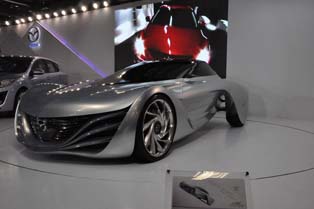 Mazda's Taiki concept car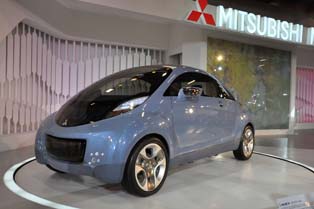 Mitsubishi Motors iMiEV Sport version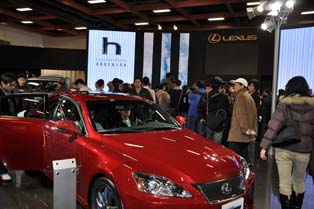 The popular Lexus booth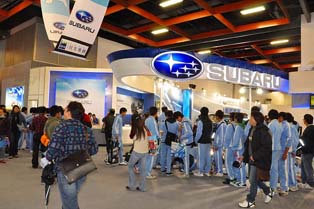 Handouts at the Subaru booth drew crowds of students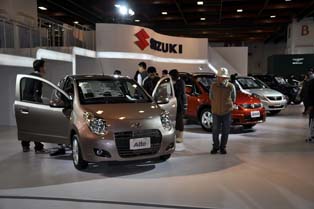 Import-only models at the Suzuki booth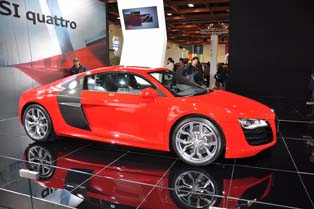 Audi appealed its R8 sports car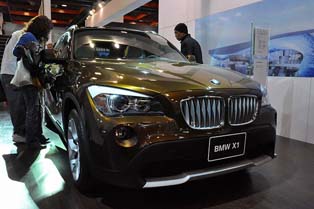 The BMW X1 drew strong interest from the young generation of visitors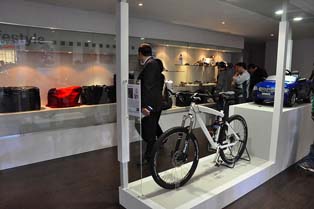 BMW displayed an expansive lineup of accessory products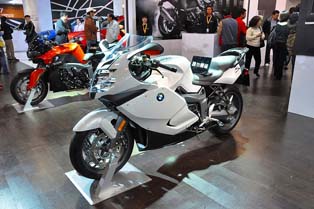 BMW displayed several large motorcycles, targeting demand from mature users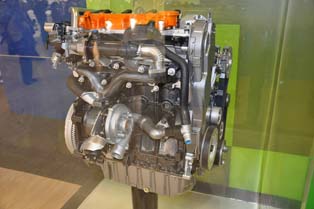 Ford displayed its EcoBoost engine, which looks to lift its green appeal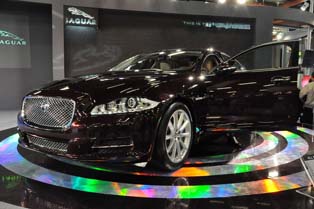 Jaguar showed off its flagship model, the XJ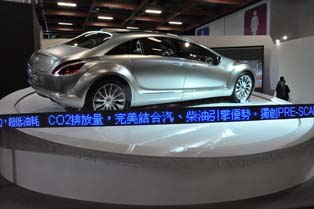 Mercedes-Benz exhibited a large passenger car incorporating DiesOtto technology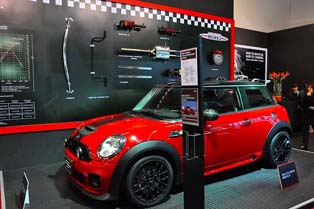 MINI's combined car and accessory booth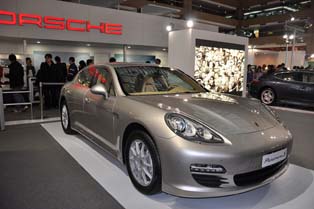 Porsche's luxury sedan, the Panamera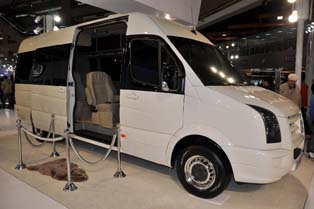 VW displayed an RV which targets leisure demand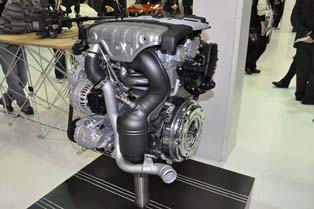 VW technology in its TSI engine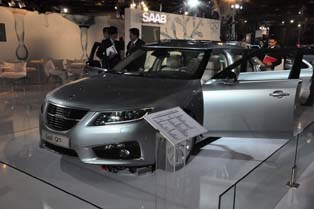 The SAAB booth drew crowds despite uncertainty over the brand's fate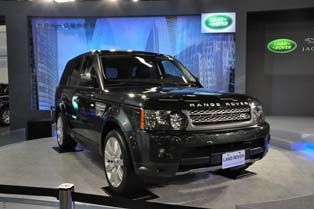 British pedigree, the Range Rover SUV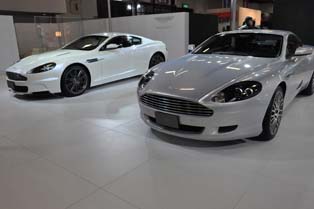 Aston Martin's subdued display in the corner of the event hall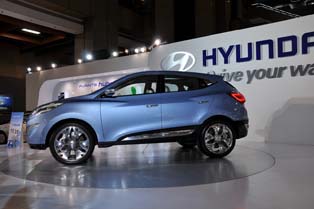 Hyundai i35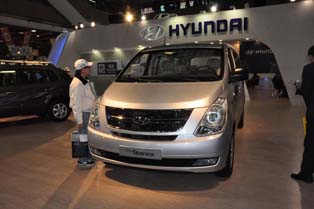 Hyundai Motor also showed off commercial vehicles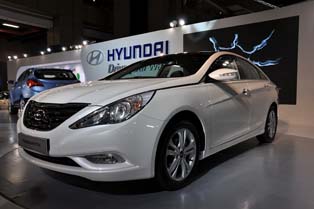 Hyundai Motor's core model, the Sonata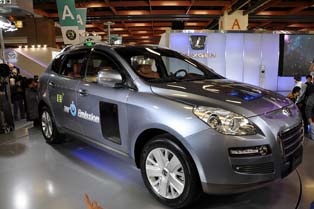 Highlight of this year's show, the Luxgen SUV from Taipei and the only world premiere model at the show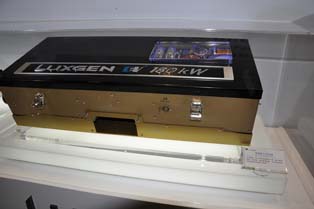 Yulon displayed a prototype battery pack for the Luxgen EV model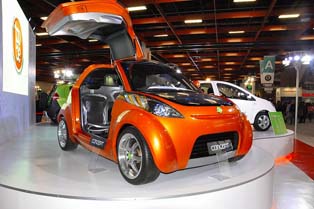 tobe EV concept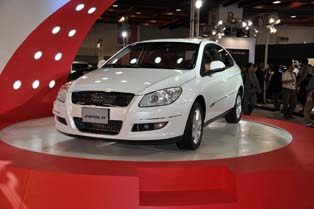 Chery's A3 unveiled as the Apola for the local market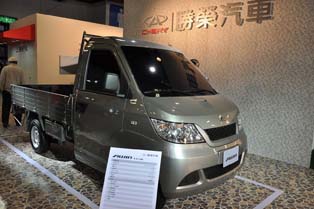 Chery's small trucks are also planned to go on sale using the Shengrong brand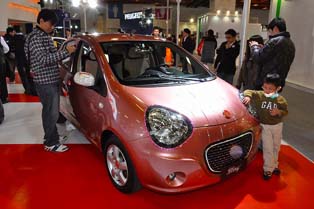 Geely m'car - locally-assembled models of the Panda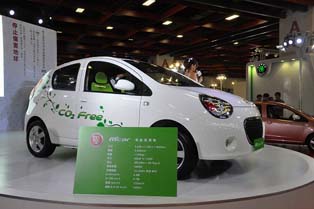 Geely also displayed an EV version of the m'car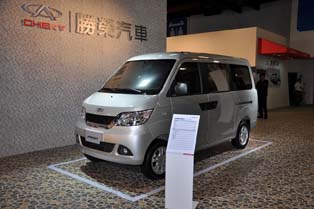 Chery's small Shengrong MPV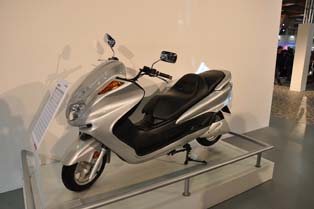 Shengrong has also put efforts into launching electric two-wheelers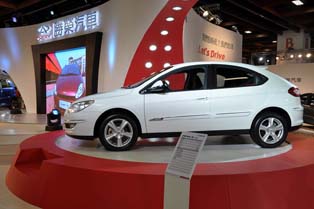 Prince Motor cut ties with Suzuki, starting up Shengrong Motor as a joint venture with China's Chery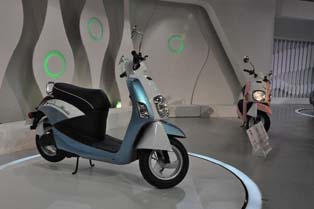 Electric scooter from China Motor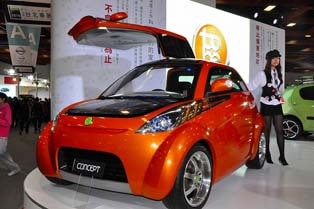 Booth of the tobe brand - set up jointly by Yulon and Geely