HOME
>
Tokyo Motor Show 2009
Tokyo Motor Show 2009
"Photo / Video Report" (by FOURIN research team)
Event site entrance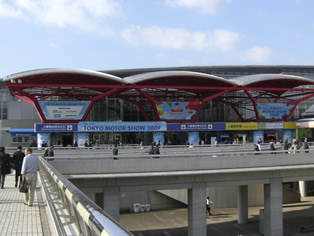 Entrance to event site on press day. The Tokyo Motor Show gets underway in the autumn sun.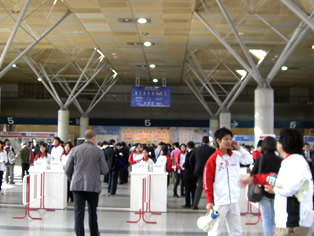 Entrance hall for the press. Even though the event had just begun, there was almost no crowding as with previous years.
FOURIN also set up a booth at this year's show displaying the latest publications.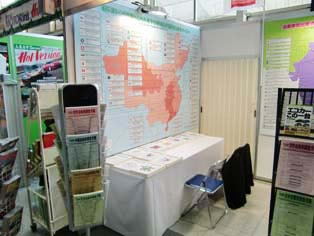 The panel within the booth displays production bases of global automakers in China.
Prior to the 41st Tokyo Motor Show's general public days scheduled to run from October 23 to November 4, 2009, press conferences were held on October 21 and 22, with FOURIN reporters attending on the first day.
The 41st Tokyo Motor Show brought participants from ten countries, two regional governments, two organizations and 109 companies. The show also saw the world premiere of 39 models (19 passenger cars, 17 motorcycles and three carrozzeria), and the Japanese premiere of 22 concept cars and new models (eight passenger cars, 12 motorcycles and two carrozzeria).
In previous years, the Tokyo Motor Show has attracted not only Japanese automakers, but has also had booths set up by major global automakers from the US and Europe such as the Detroit3, VW, Daimler, BMW and PSA. While supposed to be a lively event, with the current global downturn taking a heavy hit on business performance, almost all major overseas players were absent from this year's show. Additionally, none of the four Japanese commercial vehicle manufacturers attended this year's event, leaving only the appearance of the carrozzeria companies as the only participants not from Japan. Compared to previous motor shows, the lack of overseas participation was markedly apparent. Even the number of those from media companies present to cover the event was down on previous years, with a conspicuous drop in the overseas press contingent, highlighting a decline in interest.
Although the event may have lacked liveliness compared with previous shows, exhibiting companies showed off a vast array of concept models to the world for the first time. Displays at this year's show had a heavy focus on technologies to reduce the impact on the environment by shifting towards electric-power as has been seen at other motor shows. Nonetheless, Mazda and Daihatsu showed that fuel economy of 30km/L and beyond is possible without turning to electric technology such as hybrids, giving a taste of future fossil fuel-powered engines at a time when other automakers are gearing towards HV and EV technology.
Aside from the environment theme, Toyota, Nissan and Honda exhibited concept models of respective sports cars, explaining how they seek to stimulate demand by appealing the inherent joy of driving cars.
With recent years seeing young people turning away from cars, this year's motor show saw a marked increase in hands-on exhibits by participating companies, giving those attending the event, whether adults or children, the chance to experience first-hand the latest automotive technologies.
Below are images mainly from the press day announcements.
October 21, 2009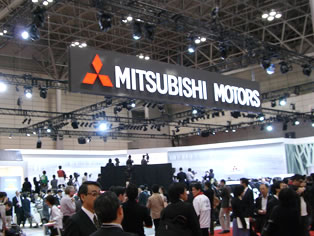 Members of the press gather in front of the Mitsubishi Motors booth to view the company's main attractions - the compact SUV-type plug-in hybrid and a commercial-use version of the i-MiEV.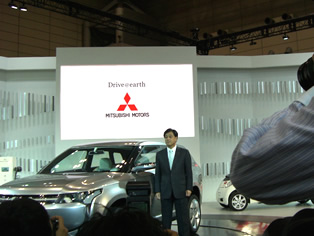 Mitsubishi Motors president and COO, Mr. Osamu Masuko, during a media announcement detailing plans to accelerate global EV participation, including shifting shipments to 11 European countries into full gear from the end of 2010.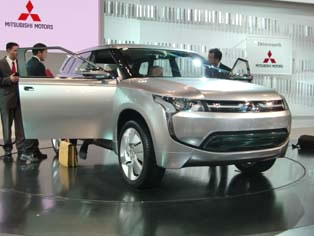 The PX-MiEV concept model - a compact plug-in SUV Mitsubishi aims to have on the market in 2013.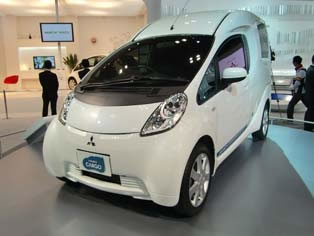 The i-MiEV CARGO - although the commercial-use version is still in the concept phase, it is expected to be used by logistics firms and postal service companies for short distance deliveries.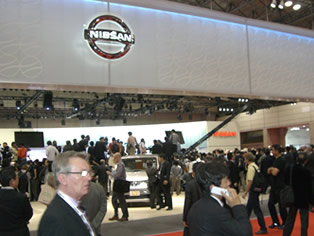 Anticipation builds in front of the Nissan booth prior to the arrival of company president, Mr. Carlos Ghosn.
Sporting a large 'Zero Emission' message in the center of the booth, Nissan appealed its stance toward moving EV business into full gear.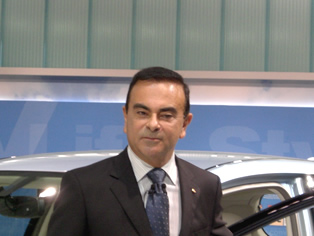 Mr. Carlos Ghosn following his press briefing during which he outlined plans to develop three versions of EVs, including the Leaf scheduled to go on sale next year, and development of a fourth model.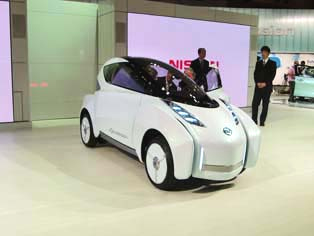 The Land Glider - consideration is underway for commercialization of this city commuter concept model for short distance travel within large cities.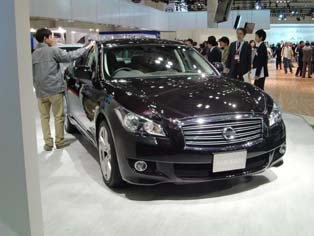 The all-new Nissan Fuga - scheduled to go on sale in November 2009. An HV version is planned to be introduced in autumn 2010 which will adopt 11 advanced features such as 'Eco Pedals' that promote eco-friendly driving.
The Gazana - capturing the essence of both a sports car and off-road vehicle to create a new genre concept car, which is hinted may come onto the market in the not-too-distant future.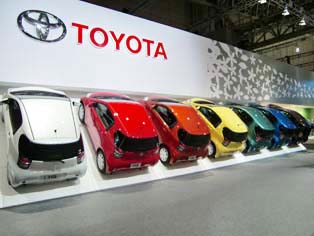 The Toyota booth offered a colorful welcome with a line of iQs.

Toyota's newly-appointed president, Mr. Akio Toyoda appears to the press briefing aboard a Personal Mobility (PM) concept. Mr. Toyoda explained his company's basic policy to return to building products which focus on the needs of consumers, as well as looking to boost its lineup of environmentally-friendly products, particularly of HVs. *Sound plays during video.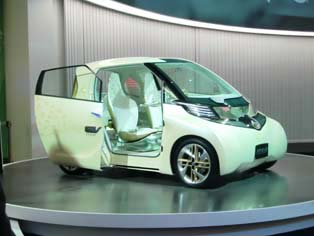 FT-EVII - compact EV concept for short distance travel which considers the mobile society of the near future. No word on commercial release.
FT-86 concept - FR-type sports model jointly developed with Fuji Heavy Industries. Fitted with FHI' s powerhouse horizontally-opposed four-cylinder gasoline engine, and forecast for release in or after 2011.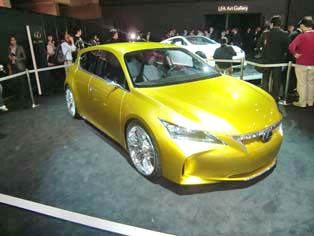 LF-Ch - first appearance in Japan of the entry model Lexus brand 5-door premium compact sedan.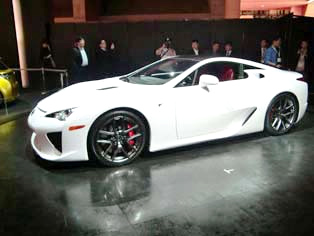 LF-A - the flagship ultra high-end sports model of the Lexus brand. Priced at approx. 37.5 million JPY, with only 500 planned to come on sale at the end of 2010.

Daihatsu president, Mr. Teruyuki Minoura, at press briefing, where he outlined his company's direction for future minicars with key words of resourcefulness, efficiency and low price. *Sound plays during video.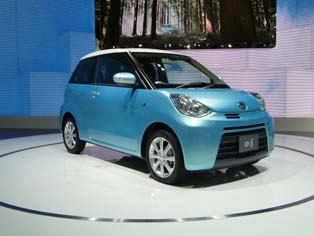 e:S - concept model which achieves 30km/L solely from a lightweight body and functional improvements to the gasoline engine. Planned to be commercialized within two to three years.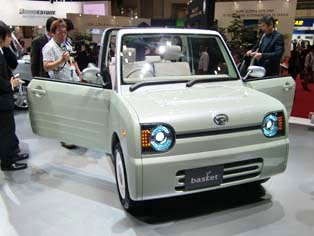 Basket - a 4-seater open-roof concept model. Exudes the slow life in touch with nature.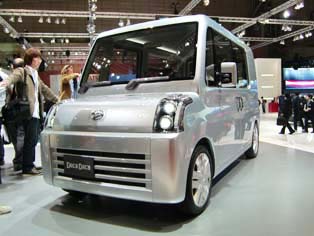 Deca Deca - mini 1-box wagon type concept model with spacious interior to meet an array of users.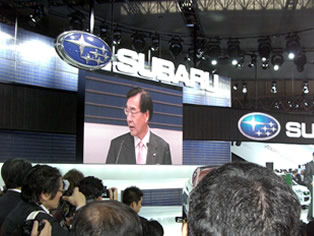 FHI president, Mr. Ikuo Mori - expressed his company's basic policy at the press briefing which aims to integrate driving safety and environmental technology, and with such presented a hybrid concept model.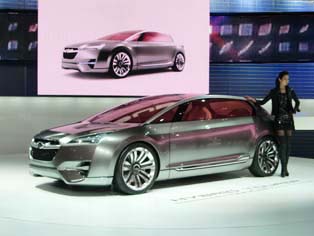 Subaru Hybrid Tourer Concept - development underway with plans for release in 2012, characterized by the direct injection turbo engine and electric motors mounted at both the front and rear.

Mazda president, Mr. Takashi Yamanouchi, speaking at the press briefing - announced the outline of the company's next generation powertrain to be introduced from 2011 and progress schedule. *Sound plays during video.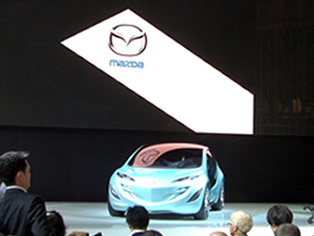 Kiyora - achieves 32km/L without the assistance of electric motors through its idling-stop and low-speed energy regenerative systems, as well as lightweighting.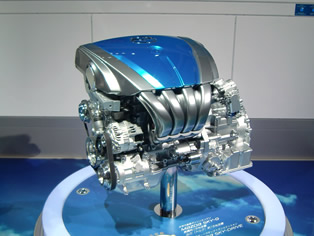 SKY-G next generation gasoline engine - scheduled to be introduced into models in Japan in 2011. Housed in Axela class models, the engine can realize fuel efficiency equivalent to the smaller class Demio.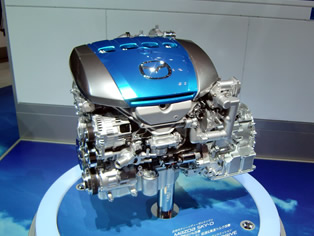 SKY-D next generation diesel engine - scheduled to be introduced into models in Japan in 2012. Housed in Atenza class models, the engine can realize fuel efficiency equivalent to the Demio which is two classes smaller.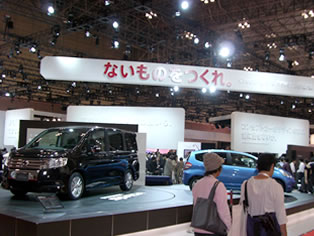 Excitement builds in front of the Honda booth - the corporate message centered above the booth of "Build what doesn't exist" conveys a strong impression.

Press briefing - ASIMO greets Honda president, Mr. Takanobu Ito. Mr. Ito outlined a move towards EVs as the company's basic policy for product creation, introducing a variety of hybrid products. *Sound plays during video.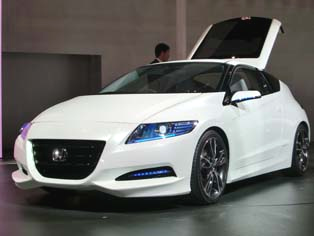 CR-Z sports-type HV - first HV to be fitted with a 6-speed MT. Global release planned beginning with launch in Japan in February 2010. Combines the joy of driving and environmental awareness.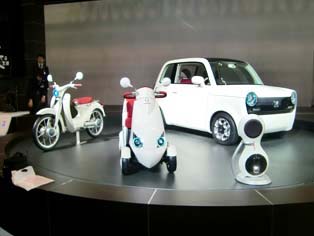 Collection of EV concepts - a wide array exhibited from motorcycles and mobility scooters to personal mobility concepts.

Suzuki press briefing - Mr. Takashi Nakayama, Representative Director and Senior Managing Officer, explains his company is to focus on environmental technologies in future undertakings.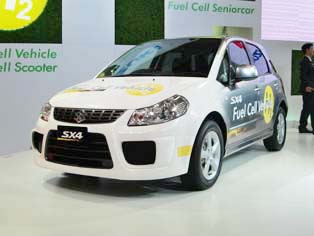 SX4 fuel-cell vehicle - fitted with GM fuel-cell batteries and Suzuki's own high-pressure hydrogen tank. Currently in road testing for commercial release.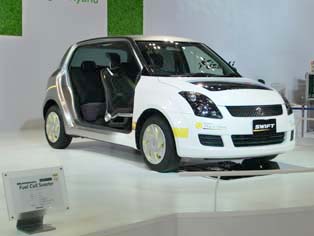 Swift plug-in hybrid - HV developed jointly with GM which adopts a series hybrid system powered only by its 660cc minicar engine.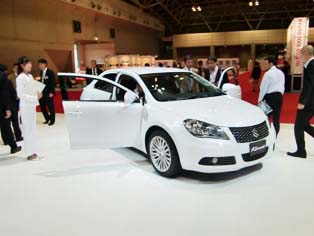 Kizashi - Suzuki's flagship D-segment sedan which went on sale in Japan the same day as its press announcement at the motor show. Sales planned in Europe and the US in and after the end of 2009, with a hybrid version planned for 2011.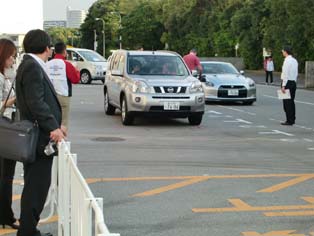 In the special events area outside the main hall, participating automakers offered test drives of a selection of models. Opportunities to test drive models were increased from previous years.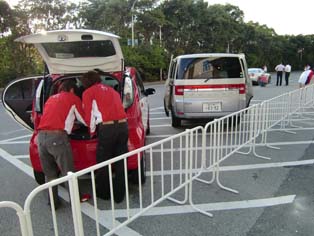 Staff preparing the Mitsubishi i-MiEV for test drive.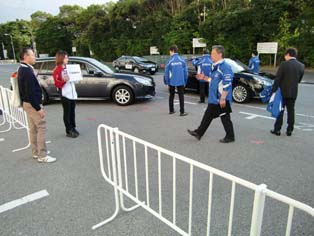 FHI staff welcoming visitors wishing to test drive models.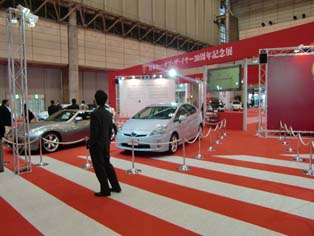 Covering an expansive area within the event hall, previous Japanese 'Car of the Year' models were exhibited, drawing great attention from visitors.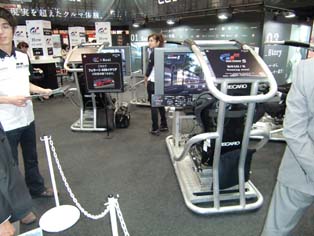 Sony set up a hands-on corner to allow visitors to experience driving simulation games offered on the Playstation console. Developed in collaboration with Toyota, visitors could even experience driving the latest FT-86 concept.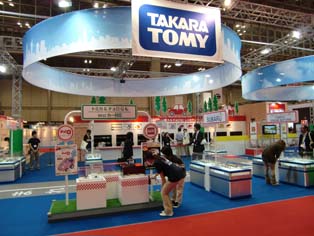 Takara Tomy corner - toy versions of models by various automakers on display, particularly popular with children.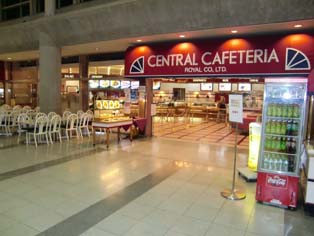 Adjacent to the event hall was a self-serve style cafeteria.
Official motor show goods shop - a wide variety of souvenirs and products only available at the motor show.