HOME
>
Asia Automotive Industry 2012 Yearbook -Automotive Parts-
Asia Automotive Industry 2012 Yearbook -Automotive Parts-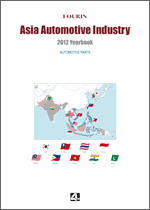 Publication
■ 2012.3.30
PDF Format
■ PDF, 230 pages
orders
■ 120,000 JPY
(Excluding shipping and Japan VAT)
View PDF Pamphlet
Printable
About 1.4MB
Cost-competitiveness Supporting Low-cost Strategic Vehicles and Global Supply Chains
- Korea, Taiwan, Thailand, Indonesia, Malaysia, Philippines, Vietnam, India, Pakistan -
Birds-eye view of the present and future automotive industry in Asia witnessing growth from domestic demand and exports
Analysis of business trends of major automakers accelerating launch of low-cost strategic vehicles
Commentary on business trends of the top100 parts makers supporting low-cost vehicles and global supply networks
Asia's automotive industry continues to grow on the back of expanding domestic demand and increasing development of export bases. In the high economic growth markets of India and ASEAN, parts makers are actively boosting investment to meet expanding vehicle production. At the same time, as low-cost vehicles fuel product competition, automakers and parts suppliers aim to acquire greater cost competitiveness, drawing attention toward low-cost technology avenues accordingly. Moreover, on the back of low prices and improving quality, there are increasing moves to position Asia as a global supply or complimentary base, further raising the critical importance of the region within worldwide supply chains.
 In Asia, varying economic growth levels and competitive footings provide a spectrum of growth scenarios and risks. India is forecast to see vehicle production expand to 10 million units annually in the medium to long-term, based on which, local firms and foreign majors are working to step up investment activities. Additionally, growth is also anticipated as an export base for powertrain components to the likes of Europe and North America. In ASEAN, investment is being boosted particularly into Thailand and Indonesia. Thailand, which aims to become the 'Detroit of Asia,' is establishing its position as a hub base in the region of Southeast Asian countries. Under this situation, the country continues to form a solid, all-encompassing parts industry. On the other hand, as a result of disruptions caused by the widespread flooding in autumn 2011, progress is likely to be made in realignment of operations by dispersing risk throughout the ASEAN region. Indonesia, with the region's largest population, looks to introduce policies to encourage the production and sale of low-cost vehicles as it aims to maximize growth for the vehicle and parts manufacturing industries. Furthermore, countries such as Malaysia, the Philippines and Vietnam are searching for growth strategies for which they can pin industry survival on. Korea and Taiwan are each eyeing expansion into overseas markets, while at the same time, set their sights on capturing global presence in the field of environmentally-friendly vehicles, such as electric and hybrid cars.
Whilst giving precise analysis of growth opportunities and risk factors inherent to Asia's parts industry, this publication also provides insight into the future direction of the region's development. Covering parts industries in nine major Asian countries, in-depth details are given of the current status and growth scenarios, production and procurement efforts of leading automakers, and business developments of major suppliers.
FOURIN Inc. is certain this publication will provide any Asia automotive industry related business an essential source of trends, outlooks and invaluable intelligence and data to support business planning.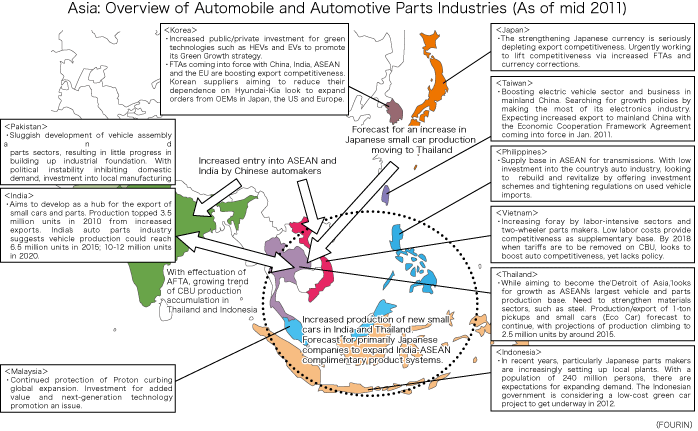 To view sample pages (PDF), please click the titles in blue.
User registration is required before viewing sample pages.
▼Chapter Two
▲PAGE TOP

Chapter One

Present Status and Future Outlook of the Asian
Automotive Parts Industry


1

Asian Parts Industry


:


2
▲Chapter One / ▼Chapter Three
▲PAGE TOP

Chapter Two

Asia Production and Procurement Trends of
Complete Vehicle Makers


13

Hyundai-Kia Group

:

Streamlines Production in Korea;
Enhances Supplementary Function Overseas by Region

14

◇Streamlining production at home, developing as core powertrain base

16

◇Overseas bases expand local production of core parts, work to raise cost competitiveness

17

◇Mutual function of overseas bases strengthened; Streamlining procurement through platform sharing

20

Tata Motors

:

Solid Performance of Low-cost Cars, Trucks;
Works to Raise Capacity in Pantnagar etc.

22

Mahindra & Mahindra

:


24

Proton

:


Diversifies Product Lineup Through Increased Tie-ups; Strengthens In-house Powertrain Manufacturing, Cultivation of Suppliers

25

Toyota Group

:


Accelerates Launches of Low-cost Vehicles;
Focus on Cost Reductions by Increasing Local Content

26

Honda

:


Boosts Asia Business Centered on the New Brio;
Key to Growth Lies in Function, Quality, Cost Balance

30

Nissan

:


Increases Capacity, Localization with the March/Micra;
Accelerates Supply Base Setup in India, ASEAN

32

Suzuki

:


Fosters India on Par with Japan; Strengthens
Local Setup in ASEAN with Launch of Small Cars

34

Isuzu

:


Further Boosts Pickup Business in Thailand; Full Foray into Emerging Countries with Market-specific Trucks

36

Mitsubishi Motors


:


Lifts Annual Capacity at Thai Plants to 500,000 Units;
Product Competitiveness of the 'Global Small'
to Become a Key

38

GM

:


Korea Strengthens Knocked-down Vehicle Business to Major Asian Bases; Raises Capacity in India for Small Cars

40

Ford

:


Positions India as an Export Base for Small Cars, Engines;
Looks to Consolidate ASEAN Business in Thailand

42

VW Group

:


Increases Small Car Launches in India;
Raises Localization Required to Boost Share

44

Daimler

:


Launches an India-exclusive Truck;
Mitsubishi Fuso Expands in Indonesia

45
▲Chapter Two / ▼Chapter Four
▲PAGE TOP

Chapter Three

Overview of Automotive Parts Industry in Major Asian Countries

47

Korea

:

Accelerates Formation of Global Parts Supply Structure;
Shifts Green Car Growth Strategy into Top Gear

48

◇

Korea's vehicle production rose to 4.65 million thanks to favorable trend of automakers, growth of parts industry

49

◇Medium to long-term automotive industry strategy: Become one of global top four in EFV sector

53

Taiwan

:

Looks to Promote Car Electronics, EV Industry by
Utilizing Manufacturing Technology Buildup by ICT Sector

60

◇Overview of Taiwan's automotive parts industry

62

Thailand

:

Heads Toward Annual Production of 2.5 Mn Units with Start of Eco Car Project; Development as a Core Business Base for Asia/Pacific

68

◇Overview of Thai parts industry

69

◇Eco Car investment grows

70

◇Automotive-related investment in 2010 of 33 billion THB

71

◇Thai Suppliers boost global expansion

72

Indonesia

:

78

◇Overview of parts industry in Indonesia

78

◇LCGC promotes production expansion and localization

79

◇Unfavorable auto parts trade balance continues, yet exports gaining

81

Malaysia

:

Aims to Boost Competitiveness Through HEV/EV Sector Buildup,
Increased Added Value

86

Philippines

:

Despite Expanding as Supplementary Base for Transmissions etc.,
Curtailed by Exit of Assembly Industry

92

Vietnam

:

Low Costs Offer Progression as Supplementary Base;
Stagnant Growth of Assembly Industry is Bottleneck

96

India

:

Increased Parts Exports, Domestic Demand Growth;
Potential for Parts Production Value of 110 Bn USD in 2020

100

◇Outline of India's parts industry

100

◇Automakers increase capacity as demand grows

100

◇Parts suppliers also raise production and strengthen R&D

102

◇Foreign suppliers buy out, raise share in local joint ventures

103

◇Parts export increases, but new duty withdrawal system is cause for concern

104

Pakistan


:


Parts Industry Expansion Not Included in AIDP; Relaxation of
Used Vehicle Import Restrictions Makes Growth Achievement Uncertain

112
▲Chapter Three
▲PAGE TOP

Chapter Four

Asia Business Trends of the Top 100 Parts Makers

117

◇Japanese Companies

Aisin Group

118

Akebono Brake Industry

120

Asahi Glass

121

Exedy

122

NTN

123

Calsonic Kansei

124

Keihin

125

KYB

126

Koito Manufacturing

127

JTEKT

128

Showa

129

Stanley Electric

130

Sumitomo Electric Industries

131

Sumitomo Wiring Systems

131

Denso

132

Tokai Rika

134

Toyoda Gosei

135

Toyota Industries

136

Toyoda Iron Works

137

Toyota Boshoku

138

Nissin Kogyo

139

NHK Spring

140

Nifco

141

NSK

142

Hi-Lex

143

Panasonic

144

Hitachi Group

145

Futaba

147

Bridgestone

148

Mitsuba

149

Yazaki

150

Unipres

151

Aisan Industry

152

NOK

152

F.C.C.

153

Sanden

153

Takata

154

Tachi-S

154

TS Tech

155

TPR

155

Yutaka Giken

156

Riken

156

◇European and US Companies

Autoliv (US/Sweden)

157

Bosch (Germany)

158

Continental (Germany)

160

Dana (US)

162

Delphi Automotive (US)

163

Faurecia (France)

165

GKN (UK)

166

Meritor (US)

167

TRW Automotive (US)

168

Valeo (France)

169

Visteon (US)

170

Behr (Germany)

171

Hella Germany)

171

172

172

◇Korean Companies

Daesung Electric

173

Daewon Kangup

174

DAS Corporation

175

Donghee Group

176

Hyundai Dymos

177

Hankook Tire

178

Hwaseung R&A

179

Hwashin

180

Hyundai Mobis

181

Hyundai Powertech

185

Hyundai WIA

186

Kumho Tire

187

Mando

188

Pyeong Hwa Automotive

190

Sejong Industrial

191

SL Corporation

192

Sungwoo Automotive

193

Sungwoo Hitech

194

195

◇Indian Companies

Amalgamations Group

196

Amtek Auto

198

Anand Group

199

Caparo India

201

Hero Group

202

JBM Group

203

Kalyani Group

204

Samvardhana Motherson Group

206

N.K. Minda Group

208

Rane Group

209

Tata AutoComp Systems

211

TVS Group

213

◇Other Asian Companies

Siam Motors Group (Thailand)

215

Somboon Group (Thailand)

216

Summit Group (Thailand)

218

Thai Rung Group (Thailand)

219

Thai Summit Group (Thailand)

220

Astra Group (Indonesia)

222

Indomobil Group (Indonesia)

224

AAPICO Hitech (Malaysia)

225

APM Automotive (Malaysia)

226

Delloyd Ventures (Malaysia)

227

DRB-Hicom (Malaysia)

228

Ingress (Malaysia)

229

GSK International Group (Taiwan)

230