HOME
> Asia's Low-Cost Compact Vehicle Development
Asia's Low-Cost Compact Vehicle Development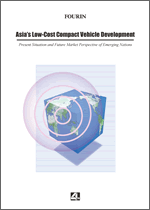 Publication
■ May 11, 2009
Format
■ A4, 215 pages
Orders
■ 95,000 JPY
(Free shipping,excl. Japan VAT)
View PDF Pamphlet
Printable
About 650KB
Present Situation and Future Market Perspective of Emerging Nations
Analysis of competitiveness on major 52 strategic models for emerging countries based on product outlines, product concepts and manufacturing and sales schedule.
Increasing significances of emerging countries change roles of each country for concept designing, development, manufacturing and export of strategic vehicles for emerging countries.
Analysis on current status and forecast of motorization in Asia based on sales trend by vehicle segments and replacement demands from motorcycles.
By analyzing advancement of motorization in major emerging countries, clarifying vital elements for strategic vehicles for emerging countries for the future.
Following the Tata Nano, an ultra-low-price compact vehicle revealed in January 2008 in India, Maruti Suzuki of India launched the A-Star, the new-generation Alto, from October 2008. Both products, strategic compacts for emerging countries aiming at both Indian and global vehicle markets, surely have immense impacts on the global automotive industry.
Global automakers' strategies for emerging countries have entered into a new era of competing with originally developed products for emerging countries in price, quality and environmental and safety specifications instead of competing with outdated products only in low price. Without utilizing low-cost R&D personnel, components and materials of emerging countries, unprecedented low price of strategic vehicles for emerging countries is out of reach.
FOURIN, Inc. presents the "Asia's Low-Cost Compact Vehicle Development" to provide better understandings and perspectives on the current and the future automotive industry in emerging countries.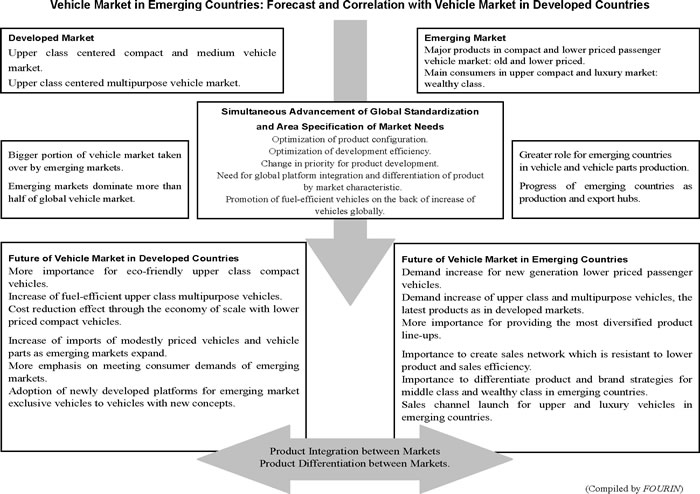 ▼Chapter Two
▲PAGE TOP

Chapter One

Present and Future of Strategic Vehicles for Emerging Markets

1

2

◇Significance of Strategic Compacts in Emerging Markets

2

◇Family Car: Once a Luxury Item but Now a Commodity

4

◇Sales Increases of Existing Models and by Middle Class Consumers

5

◇Concurrent Advancement of Motorization and Diversification

6

◇New Vehicle Market Size and Perspective in Emerging Countries

7

2.

New Trends Towards Downsizing, Diversification and Multifunctionality of Strategic Vehicles

12

◇Focus on Market Change and Competition with the Appearance of Emerging Nations

12

◇Possibility for A Class Passenger Cars to Expand Global Markets

14

◇Sales Expansion and New Users of A/B Class Passenger Vehicles

16

◇Acquisition of New Customers through B/C Class Passenger Vehicles

18

◇Wealthy Stratum a Source of Profits for the Upper B/C Class

20

◇Capturing the Young Generation with a B/C Base AUV

22

◇Solid Sales Base Despite Reduction in Mid-size AUV Sales

22

◇Exploiting Global Emerging Market with 1-Ton Pickup Trucks and SUV Variants

24

◇Steady Light Truck Demand Created in Asia

24

◇Global Potential of Utility Vehicles

25

28

30

◇Compact Vehicles: Major Product in Progressing Ultra Low Cost Vehicle Development

30

◇Motorization through Motorcycles Replacement Demand

31

◇Ban on Used Vehicle Imports and Development of Domestically Manufactured Used Vehicle Market

32

◇Demands for Multi-Purpose Utility Vehicles in Emerging Countries

33

◇Delayed Road Infrastructure Building and Enhancement of Road Safety

33

◇Expanding Demands for Motorcycles in Emerging Countries as Vehicle Demand Base

34

4.

Coordinating Global Resources for Low Cost and Specification of Strategic Vehicles for Emerging Courtiers

38

◇Coordinating Global Resources for Development of Strategic Vehicles for Emerging Countries

38

◇Cost Reduction for Strategic Vehicles for Emerging Countries in Framework of Global Procurement

39

◇Global Vehicle Market Expansion and Potential for Specialization of Roles by Country

41

◇

Attracting Auto Parts Industry Best Suit for the Country and Production of Strategic Vehicles for Emerging Countries

41

◇Utilizing Emerging Courtiers as Supply for Business Resources and Components

42
▲Chapter One / ▼Chapter Three
▲PAGE TOP

Chapter Two

Progressing Launch of Strategic Vehicles for Emerging Countries
from Asia


45

Korea

:

Potential for Compact Vehicle Demand Increases, Improvement of Economic and Industrial Environment Required

46

◇Market Stagnation Brought About Deteriorated Economic Conditions of Middle Class and Youth

46

◇Market Structure Transition and Potential for Mini and Compact Vehicles

47

◇Expectations for New Industrial and Economic Policy

48

Taiwan

:

Seeking Survival through Overseas Operation, Motorcycle Replacing Demand to Boost Vehicle Demand at Home

50

◇With Prolonged Domestic Demand Stagnation, Auto Industry Seeks Growth Overseas

50

◇

Domestic Circumstances Constrained Domestic Demand Increase and Accumulated Replacement Demands

51

◇Strategic Vehicles for Emerging Countries Expand Potential to Create New Demands

52

Thailand

:

Aiming at Two Million Unit Production with Eco Car; Pickup Truck Market Follow Downward Trend

54

◇Eco Car Projects Started to Become Passenger Vehicle Export Hubs

54

◇Political Uncertainty Constrain the Market but Passenger Vehicle Market Remains Positive

54

◇Aiming at Two Million Annual Vehicle Production with Compact Passenger Cars

56

Indonesia

:

Market of 200 Million People Creates Major Auto Production Country in ASEAN

58

◇Eyeing a Major Automotive Producing Country with High Market Potential

58

◇Economic Recovery Lifts Market Equal to the Thai Vehicle Market in 2008

58

◇Expectation for Policy Introduction to Create One Million Vehicle Market

60

Malaysia

:

Roadmap to Capture Global Competitiveness Required in Industry Growth Policy

62

◇Automotive Policy Focusing on Protection of National Vehicle Manufacturers

62

◇Two National Companies Capture 60% of the Market under Protection

63

◇National Makers Seek Opportunities Overseas as Domestic Market Saturated

64

Philippines

:

Seeking Industrial Policy to Replace Imported Used and Converted Vehicles

66

◇Tightened Restriction on Used Vehicle Imports Recovered Domestic Demands

66

◇Motorcycles and Utility Vehicles Complement Vehicle Demand

66

◇More Demands for Compacts and Utility Vehicles by Wealthy Class

67

◇Stalemated Policy to Replace Used and Converted Vehicles

68

Vietnam

:

Domestic Demand Increases with Light Commercials of Emerging Brands Polarized the Market

70

◇Rapid Domestic Market Expansion Seen in 2007

70

◇Growth Potential Seen in Motorcycle Population and Steady High-End Vehicle Sales

71

India

:

72

◇Automotive Industry Seeking Growth with Compact Vehicles and Auto Components

72

◇Progressing Diversification of Compact Passenger Vehicles

73

◇Price and Sales Network Battle in Low Cost Passenger and A2 Segment

74

◇Aiming for Export Hub with Industrial Foundation for Low Cost Vehicle

75

Pakistan

:

Required Stimulation Package to Achieve Production of Half a Million Vehicles in 2011

76

◇Drawing up Policy to Produce 500,000 Units Vehicles in FY 2011

76

◇Fostering Domestic Industry Requires Domestic Market Development

77

◇Aiming for 500,000 Unit-Vehicle Production in FY 2011

78
▲Chapter Two / ▼Chapter Four
▲PAGE TOP

Chapter Three

Outline and Strategy of Strategic Vehicles for Emerging Countries

81

82

◇Production Plan

84

◇Purchasing Policy

85

◇Domestic Sales Strategy

86

◇Export and Overseas Operations

87

Bajaj/Renault/Nissan ULC

88

Maruti Suzuki Zen Estilo/Suzuki Karimun Estilo

90

Maruti Suzuki Maruti 800

92

Hyundai 3,500 USD Car

93

Perodua Viva

94

Hyundai Click/Getz Kia Morning/Picanto

96

◇Outline of the Hyundai Click/Getz

96

◇Sales Trend of the Click

97

◇Production Trend of the Click

98

◇Outline of the Kia Morning/Picanto

100

102

Suzuki/Maruti Suzuki A-Star (New Alto)

104

Suzuki/Maruti Suzuki Swift/SX4/Splash

106

GM Daewoo Matiz/Chevrolet Spark/Chevrolet Beat

110

◇Research and Development at GM Daewoo

111

◇Sales Strategies of the Chevrolet Spark and the Chevrolet Beat

112

Tata Indica Vista/Indigo

114

Chery QQ/A1

118

Perodua Myvi/Daihatsu Sirion

120

Proton Saga/Iswara

122

Proton Savvy

124

Toyota EFC

125

VW up!

126

Eco Car

127

Toyota Soluna Vios/Vios: Toyota Yaris/Vitz

128

◇The Soluna Vios/Vios: Asian Exclusive Sedan

129

◇The Yaris/Vitz: Global Strategic Hatchback

130

132

◇The City: Strategic Sedan for Emerging Markets

132

◇The Fit/Jazz: Global Strategic Compact

134

Nissan March/Micra

136

Renault/Dacia Logan/Sandero

138

VW Polo・Fox・Gol Skoda Fabia

142

◇VW Polo

142

◇Skoda Fabia

143

◇VW Fox/Gol

145

Mazda2 Ford Fiesta

146

◇Mazda2/Demio

146

◇Ford Fiesta

147

Fiat Palio

150

Fiat Linea

152

Chevrolet Cruze

153

Proton Gen-2

154

Proton Persona

156

Hafei Lobo/Naza Forza

158

Lifan520

160

Geely Freedom Ship(CK1)

162

BYD F0

163
▲Chapter Three / ▼Chapter Five
▲PAGE TOP

Chapter Four

Outline and Strategy of Strategic Utility Vehicles

165

Toyota Avanza/Daihatsu Xenia

166

◇Sales Trends

167

◇Production Trends

168

Daihatsu Terios/Toyota Rush

170

Daihatsu Gran Max

171

Suzuki APV

172

Nissan Livina Series

174

Mitsubishi Freeca/Adventure/Kuda (DFW)

176

Mitsubishi Zinger/Fuzion

178

Isuzu Panther/Hi-Lander/Chevrolet Tavera

179

180

◇Background of the IMV Project

181

◇Platform Integration and Improvement of Local Content

181

◇Formulation of the Most Efficient Production and Supply System Globally

182

◇Quality Control

184

◇Sales

184

◇Next Generation IMV

185

188

Nissan Frontier/Frontier Navara

190

Mitsubishi Triton/Pajero Sport

192

Mazda BT-50/Ford Ranger, Everest

194

Tata Xenon

196
▲Chapter Four
▲PAGE TOP

Chapter Five

Outline and Current Condition of Emerging Countries Globally

199

China

:

200

◇Upper Grade Compact Vehicles Pushed New Vehicle Sales

200

◇After Rapid Increase, Vehicle Registration and New Vehicle Sales Expected to Stabilize

201

◇

Industry Policy Aiming for Prevalence of Vehicles to General Households and Development of Chinese Firms

201

◇

New Relationship between Used Vehicles and Replacement Demands for Motorcycle and Agricultural Vehicles

202

Mexico

:

Diversification in Sub-Compact Market Lifts Vehicle Population to a Higher Level

204

◇Demand Lifter Shifts from Compacts to Imported Used Vehicles

204

◇Global Makers Separate Local Needs from Their Strategies in the Country

205

◇Product Proposal to Stimulate Market Potential and Supporting Measures

206

Brazil

:

Industrial Foundation Building to be a Pillar of Ultra Low Cost Vehicle Production

208

◇1L Car and Fuel Policy Pushed Market Growth

208

◇Signs of Diversification towards 4 Million Unit Market

209

◇Potential as an Export Hub of Modestly Priced Vehicles

210

Russia

:

Wealthy Class Led Market Recovery, High Expectation for Industrial Modernization in a New Growth Period

212

◇Market Reached 3 Million Units with Strong Demand for Foreign Brand Vehicles

212

◇Vehicle Market in a New Growth Phase after Troubled Period

213

◇Development Policy Aiming at Fostering Domestic Industry on the back of Market Expansion

214