HOME
> China Automotive Industry Yearbook 2011
China Automotive Industry 2011 Yearbook -Automotive Parts-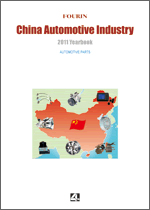 Publication
■ 2011.6.29
Format
■ A4, 259 pages+CD
Orders
■ 120,000 JPY
(Excluding shipping and Japan VAT)
View PDF Pamphlet
Printable
About 788KB
Moving from Growth to Maturity Stage in China, Electrification, Lightweighting as well as Cost Competitiveness Needed for Auto Parts Makers
Identifies the direction of the Chinese automotive industry based on analysis of growth strategies of China's central and local governments
Analyzes parts procurement strategies and in-house parts production systems of 16 local and foreign automakers
Clarifies trends of new technology development, procurement strategy and business relationships of 40 major Chinese parts makers
Outlines business conditions of ten leading Chinese companies in the vehicle electrification sector
Explores business trends of 48 foreign automotive parts manufacturers in China
In 2010, the Chinese automotive market is expected to be close to the world´s highest recorded vehicle sales of 17.8 million units achieved by the United States and become the auto powerhouse of the world both in name and reality in 2011. Comparing with China´s production volume of 2.35 million units in 2001 when China became a member of the WTO, the Chinese automotive industry achieved astounding growth with unprecedented rapidity, recording seven-fold expansion in less than 10 years. Needless to say, the auto parts industry has also achieved explosive growth. In China, while the amount of foreign investment allowed in joint venture projects of complete vehicle manufacturers is limited to 50%, there is no restriction on the joint venture projects of automotive components. Consequently, the development of the Chinese parts industry was carried out by foreign companies and joint venture companies between Chinese and foreign suppliers, while Chinese suppliers became lagging behind in technology and R&D. However, recently, as seen in the acquisitions of Delphi Corporation´s brake and chassis business and GM´s Nexteer steering components unit by Chinese enterprises, there are an increasing number of Chinese suppliers that intend to fill the technological gap through takeover of foreign parts makers backed by the governmental supports. Furthermore, with an aim to make up for delay in technology accumulation in the auto parts industry, the Chinese government has been activating implementation of industrial policies to support and encourage development of technology and products in new technology areas such as electric vehicles and related parts.
It is firmly believed that this survey on the up-tothe-minute trends of the Chinese auto parts industry which clarifies the Chinese government´s industrial policies for 2015 as well as deep analysis on parts procurement strategies and business trends of Chinese and foreign auto parts makers will serve as an invaluable source of information for those conducting business related to China´s automotive industry, and contribute to further business expansion.
Please click the following image. It is possible to see in a large size.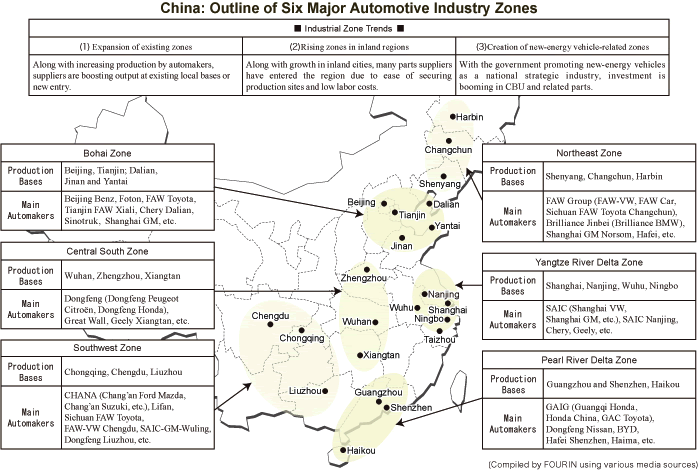 ▼Chapter Two
▲PAGE TOP

Chapter One

The Status Quo and Focal Points of the Chinese Auto Parts
Industry in China


1

2

8

3.

Parts Industry Policy: Support for Technology Development of Existing Sectors; High Focus on Fostering Towards EV Components

16

4.

EV/HV Parts Procurement: Active New Entry by Chinese Makers; Low Intensity Questions Supplier Profitability

18

5.

Parts Export and Import: Recovery in Exports from 2009's Slowdown, Yet Risk of Trade Friction from Rapid Rise

24

6.

Analysis of Production Trends: Foreign Makers Take the Lead in System Integration and Material Sector While Chinese Dominate Equipment Sector

42
▲Chapter One / ▼Chapter Three
▲PAGE TOP

Chapter Two

Major Automakers' Policies and Trends of Parts Procurement
Practices in China


79

1.SAIC Group


:


Restructures Parts Subsidiaries; Looks to Lift Product Competitiveness by Strengthening Ties with GM

80

2.FAW Group


:


Lifting Local Procurement to Reduce Logistics Cost; Realignment of Parts Business Through Listing of Fawer

81

3.Dongfeng Motor


:


Reevaluates Procurement System for Commercial Vehicles; Efficient Business Through Parts Subsidiary Integration

82

4.Chang'an Automobile


:


Despite Consolidating Joint Procurement Plan Through Integration of AVIC Units, Realignment of Parts Business Poses Problem

83

5.Chery Automobile


:


Targets New-Energy Vehicle Annual Sales of 50,000 Units by 2015; Accelerates Formulation of Supply Chains

84

6.BYD Auto


:


Enhances Internal Product Manufacturing by 70 Percent; Achieves Weight Reduction Through Self-Developed All-aluminum Engine

85

7.Geely Automotive


:


Acquires Volvo, Forging Ahead into the Foreign Market; Accelerates Buildup of Overseas Supplier Chain

86

8.Great Wall Motor


:


Enhances Production System for 2 Million-Unit Target by 2015; Boosts Parts Capability at Bases in Tianjin and Hebei

87

9.VW


:


Aims for Local Procurement Ratio of 100 Percent; Considers Partnerships with Local Battery Makers for Expansion of EV Business

88

10.PSA


:


Advances Local Procurement and Development of Next Generation Engine; Develops New-energy Vehicle Strategy

89

11.GM


:


Strengthens Partnership with SAIC in Developing New-energy Vehicle Business; JVs Increase Production Capacity of Core Parts

90

12.Ford / Mazda


:


By Enhancing Local Procurement, Strengthens Engine Production; Focuses on Parts Support for Mainland China

91

13.Toyota


:


Aims to Reduce Parts Procurement Cost by 30 Percent in 2013, Increasing Local Parts Procurement in China

92

14.Honda


:


Strengthens Competitiveness Through Local Manufacturers; Boosts Procurement and Promotion of HEV Parts

93

15.Nissan / Renault


:


Increasing Efficiency of Guangzhou Plant; Contemplates Expanding CVT Mounting; Suppliers Accelerate Construction of New Plant

94

16.Hyundai / Kia


:


Construction of New Plants in 2012 Aiming to Increase Capacity to 1.8 Million Units; Local Content Ratio Over 90 Percent

95
▲Chapter Two / ▼Chapter Four
▲PAGE TOP

Chapter Three

Business Conditions of 40 Major Chinese Auto Parts Makers

97

1.Beijing Hainachuan


:


Reduces Dependency to Parent BAIC Group; Switch to Focus on Modular Parts by 2015

98

2.Binzhou Piston


:


2010 Business Performance up over 100% YOY; Eyes 1 Bn CNY Sales in 2015

99

3.Bothwin Investment


:


To Specialize in Commercial Vehicle Axles; High Business Risk from Distribution Costs

100

4.Changchun Xuyang


:


Capital Participation from Faurecia; Aims to Expand Sales Routes Outside FAW

101

5.Dicastal Corp.


:


With Projections for Export Decline, Starts Capacity Buildup Indicating Expansion into Local Market

102

6.Datong Gear


:


By 2015 Aims for Revenues of 6 Bn CNY; Accelerates Construction for Capacity Expansion

103

7.Desay Group


:


Acquires Entire Share Capital in Siemens VDO (Huizhou); Enhances Vehicle Electronics

104

8.East Joy Long


:


Supplies Primarily Chinese Automakers; Accelerates Switch from Low to Higher Value-added Products

105

9.Tong Yang Industry


:


Strong Mainland Sales Drive Overall Growth; Aims for Sales Revenues of 60 Bn TWD in 2015

106

10.Fengfan


:


Aims for 10Bn CNY Sales Revenues by 2020; Adjusts Product Mix to Increased Added Value, New Energy

107

11.Fuyao Group


:


Channels Investment to Automotive Business in Aim to Become World's Biggest Auto Glass Supplier by 2015

108

12.Hangsheng Electronics


:


Boosts AV Capacity Aiming for 10 Mn Sets in 2015; Focuses on Foray into Electronic Drive Parts

109

13.Huaxiang Group


:


Focus on Interior Trim Business Centered on Listed Subsidiary Ningbo Huaxiang; Increases Buyout, Selloff of Assets

110

14.Huayu Automotive


:


111

15.Jinheng Automotive


:


Sells off Airbag Business to Concentrate on EMS; Strengthens Product Development

112

16.Dragon Hill Wuling


:


Reduces Dependence on SAIC-GM-Wuling; Hedges Business Risk with Foray into Electric Refitted Vehicles

113

17.Lingyun Industrial


:


Increases Capacity in Aim for 10 Bn Revenues in 2015; Accelerates Business Expansion by M&As, Reorganization

114

18.Lioho Machine Works


:


Mainland Foray Centers on Ties with Foreign Automakers in Coastal China; Expectations for Inland Expansion

115

19.LYC Bearing


:


Aims for Sales Revenues of 10 Mn CNY in 2015; Targets Higher Supply to Compact Cars with NTN Joint Venture

116

20.Minth Group


:


Builds Trade Ties Centered on Japanese Companies; Achieves Top Profitability in the Industry

117

21.Nanjing Aotecar


:


Controls 80 Percent of Domestic Vehicle AC Compressor Market; Aims to Supply EVs, HEVs

118

22.Qingte Group


:


Succeeds in Heavy-duty Vehicle Axle Business with Emphasis on Development Capacity and Quality; Newly Enters Large Bus Axle Sector

119

23.Ruili Group


:


Returns to Positive Growth in 2010 with Increasing Domestic OEM Supply; Aims to Boost Sales to New-energy Vehicles

120

24.Sanhua Holding


:


Expands Capacity to Boost Sales Revenue to 10 Bn CNY in 2014; Enhances Production System Through Business Acquisition

121

25.Gold Phoenix Group


:


Ensures Stable Revenues Through Overseas OEM Supply; Also Focuses on Development for Railways, Airplanes

122

26.Hande Axle


:


Steps Up Capacity Enhancement to Boost Sales to 550,000 Units in 2011, 900,000 Units in 2015

123

27.Tianrun Crankshaft


:


Solidifies Foundation of Heavy Vehicle Crankshafts; Boosts Capacity in Md/Sm Commercial Vehicle, Car Sector

124

28.Tempo Motor


:


Acquires US Parts Assets with State-owned Partner; Aims to Reduce Dependence on Western Market

125

29.Wanfeng Auto


:


Ensures Production Increase to Meet Growing Weight Reduction Needs; Boosts Capacity of Forged Aluminum Wheels

126

30.Wanier Transmission


:


Acquires Superior Position in the Mini, Light CV Transmission Sector; Likely to Foray into Passenger Car Market

127

31.Wanxiang Group


:


Boosts Business at Home, Abroad; Actively Invests in Equipment to Meet Rising Demand in China

128

32.Weichai Power


:


Aims for 100 Bn CNY in Sales Revenue, 2.5 Mn Units in Sales Volume in 2020 by Focusing on Product Strength Improvement

129

33.Weifu High-technology:


:


Strengthens Tie-up with Bosch; Develops Supply
System of Low-cost Common Rail Parts

130

34.Xinfeng Enterprise


:


Plans to Raise Annual Capacity to 2 Million Units in 2013; Steps Up Capacity Enhancement to Boost Sales

131

35.Xinyi Group


:


Raises Sales Revenue 60 Percent Due to Brisk Domestic Market; Focuses on Development of Energy-efficient Glass Products

132

36.YAPP Automotive


:


Increases Production at Home, Abroad; Aims to Become One of Top Three in Global Fuel Tank Business

133

37.Zhejiang Asia-Pacific


:


Speeds Up Capacity Enhancement for OEMS; Implements Sales Expansion Strategy in Repair Market

134

38.FAWAY


:


Strong Performance of FAW-VW Boosts New Profit to 50 Percent; Heavy Reliance on Group Members Is Cause for Concern

135

39.Yuchai Machinery


:


Aims for 100 Billion CNY in Sales Revenue by 2015; Focuses on Tie-ups with Automakers, Development of Energy-efficient New Products

136

40.ZYNP


:


Specializes in Engine Cylinder Business; Aims to Boost Annual Capacity to 42 Million Units by 2012

137
▲Chapter Three / ▼Chapter Five
▲PAGE TOP

Chapter Four

Business Conditions of 10 Major Chinese Auto Parts
Suppliers Related to Electrification


139

1. China Tex Mechanical &
  Electrical


:


140

2. CSR Times EV


:


Pursues Electrification Parts, New Energy Bus Business;
Eyes Expansion with Capital from SG Automotive

141

3. Ningbo Yunsheng


:


Boosts Neodymium Magnet, Motor Business; Aims to Lift
Motor Development with Takeover of Nikko Electric Industry

142

4. Broad Ocean Motor


:


Forays from Home Appliance Motor to Automotive
Business; Ramps Up CAPEX, Development

143

5. Dajun Technologies


:


With Core Products Permanent Magnet Reluctance Motors,
Concern for Business Risk from Limited Orders

144

6. Shanghai Edrive


:


Despite Securing Customers,
High Costs Bottleneck to Increasing Orders

145

7. Tianjin Lishen


:


Aims for Sales Revenues of 100 Bn CYN; Rush to Boost
Lithium-ion Battery Capacity to Supply 200,000 Vehicles

146

8. Tianjin Qingyuan


:


Switches from EV Refitting to In-house Development of Mini
EV Platforms; Participates in EV Projects with CBU Makers

147

9. Wanxiang EV


:


Business Expands to Batteries, Motors, Control Systems;
Considers Becoming Subsidiary of Wanxiang Qianchao

148

10. Winston Battery


:


Looks to Boost Domestic Rechargeable Battery Sales on
Stability, Reduced Charging Time

149
▲Chapter Four / ▼Appendix
▲PAGE TOP

Chapter Five

Business Trends of 50 Major Global Parts Makers in China

151

1. Bosch


:


Supplying Low-cost Products to Local Automakers; Electric
Powertrain, Safety Technology Draw Attention

152

2. Delphi


:


154

3. Magna


:


Positions EV Business on New Growth Strategy from 2010;
Eyeing Establishment of R&D Center

156

4. Schaeffler


:


Accelerates Setup of New Bases; Focus Draws
on Forthcoming Integration Trends with Continental

158

5. ArvinMeritor


:


Finalizes Sell-off of LVS Business; Specialization in CVS
Business from 2011; Launch and Development
of Spare Parts in China

160

6. ASIMCO


:


Purchased by Investment Firm and Undergoes System
Restructuring; Further Strengthens Diesel
Engine Sector

161

7. Autoliv


:


Expands Operations Through 51% Share Purchase of
Delphi's China Seatbelt Base;
Develops In-house Manufacturing, Reducing Costs

162

8. BorgWarner


:


Expands Local Production of DVTs and Turbochargers;
Makes Progress in Increasing Annual
Total Sale Revenues to 45% by 2014

163

9. Cummins


:


Reviews China Strategy;
Accelerates Localization of High to Low-end Parts

164

10. Eaton


:


Enhances Sales of Hybrid System and Supercharger;
Joins Alliance Which Aims to Disseminate EVs

165

11. Faurecia


:


Acquires Shares in FAW Supplier Changchun Xuyang Group;
Expands Cooperative Efforts with Local Suppliers

166

12. Federal Mogul


:


Plans to Begin EV Parts Development in Shanghai;
Also Focuses on After Market

167

13. Freudenberg


:


Increases Investments in China;
Plans to Strengthen Fuel Cell Business with SAIC, Geely, Chery

168

14. Getrag


:


To Localize DCT Production in 2012;
Expectations from Introduction of Electronic Drive Units

169

15. GKN


:


New Construction of Base in the Vicinity of Customers;
Accelerates Launch, Development for Low-cost EV,
HV Parts for Chinese Market

170

16. Michelin/Goodyear


:


Began 1.45 Billion USD Investment Project;
Transfer of Dalian Bases

171

17. Hella


:


Focus on Xiamen Large-scale Global Automotive Relay
Production Base; Aiming to Strengthen Replacement
Parts Business from 2010

172

18. JCI


:


Boosts Localization of Battery Production;
Plans to Upgrade Annual Production Capacity of
30 million Units by 2015

173

19. Lear


:


Fosters Electronic, Electrical Parts Business in China;
Expectations for Expanding EV Component Sales

174

20. Magneti Marelli


:


Begins Full-scale Operation of Joint Base for
AMT with SAIC; Aims to Expand in China's
Light Vehicle Market

175

21. MAHLE


:


Boosts Production Eyeing Business Opportunities on
Rising Green Vehicle Demand;
Expectations for Stronger Links with Behr

176

22. MANN+HUMMEL


:


Aims to Sustain Double-digit Annual Growth;
Shanghai Base Becomes Operational Increase
Local Production and R&D

177

23. Tenneco


:


Aims to Expand Supply of Commercial Vehicle
Exhaust System Parts Through JV with FAW8

178

24. ThyssenKrupp


:


Contracts Body, Chassis Business While
Boosting Materials, Shaft Systems as Core Operations

179

25. TRW


:


Localizes EPS from 2011;
Acquires New Orders from Four Local Manufacturers

180

26. Valeo


:


Progesses Sell-off of Non-core Parts Bases in China;
Supplies Electronic Powertrain Systems to BAIC

181

27. Visteon


:


Promotes Development Localization Led by
Low-cost Products at China Bases

182

28. Wabco


:


Strengthens Affiliations with Local
Commercial Vehicle Makers CNHTC, FAW Jiefang;
Aims to Triple Annual Sales Revenue in 2014

183

29. ZF


:


Aims to Boost Total Sales Revenue
by 15 Percent in 2015;
Expands Supply to Local Affiliates with Dongfeng, Others

184

30. Aisin Group


:


Promotes Local Development; To Launch
Low-cost Parts Aiming to
Increase Sales to Automakers Other than Toyota

185

31. JTEKT


:


Aims for 110 Billion JPY Total Sales
Revenue in China by 2015; Enhances Supply System for
FAW, Other Local Manufacturers

187

32. Denso


:


Launches Products with Costs Halved;
Plans to Lift Sales to Chinese Automakers,
Low-cost Cars of Japanese Makers

189

33. Hitachi Group


:


Approaches Smart-grid Business;
Aims to Supply Batteries to Local Manufacturers

191

34. NTN


:


Inaugurates JV with Local Major Luoyang LYC;
Sets a Target for China Sales Revenues
of 100 billion JPY in 2015

193

35. Calsonic Kansei


:


Increases Production to Meet Nissan;
Localization of Development
Looks to Capture Demand for Low-cost Parts

194

36. JATCO


:


To Expand CVT Capacity to 730,000 Units in 2012;
Challenge in Finding Customers Apart
from Dongfeng Nissan

195

37. Sumitomo Electric


:


Accelerates CAPEX for Wiring Harness Operations;
To Also Enter Tire Steel Business from 2011

196

38. Takata


:


Steps up CAPEX in China to Capture Forecast Growth;
To Begin Operation at New Tianjin Base
in 2011 to Meet Higher Demand

197

39. Tokai Rika


:


Restarts Shelved CAPEX Plans in China; Expands Capacity
at Foshan Base 1.5-fold in 2010

198

40. Toyoda Gosei


:


Frequent Strikes in 2010; To Accelerate Capacity,
Production Expansion in 2011 of Core Products

199

41. Toyota Industries


:


To Make the Company's Largest Engine Foundry;
Aims to Capture 33 Percent Share by
Lowering Compressor Costs

200

42. Toyota Boshoku


:


New Base in Changchun, Transfer to Chengdu to Enhance
Capacity; Progress in Joining Fabric Operations

201

43. Nidec


:


Sets up Business to Expand Sales of EV/HEV Motors;
Pursues New Orders from Chinese Automakers
in Inland Regions

202

44. Bridgestone


:


Enhances Production Development;
Launches High-mileage Tires, Accelerates Development of
Tire Recycling

203

45. Yazaki


:


Sets up Wiring Harness Production Base in Fujian;
Aims to Increase Business with Local Automakers

204

46. Hyundai Mobis


:


Boosts Parts Capacity to Meet CBU Production in China by
Hyundai-Kia Group;
Eyes Expansion to Non-affiliates

205

47. Mando


:


To Localize EPB Production in Beijing for Chery; 3Also
Development as Export Base to Korea, US

206

48. Hankook Tire /
  Kumho Tires

:


Both Companies Look to Ramp up Production to 30 Mn Units to Gain Higher Tire Share

207
▲Chapter Five
▲PAGE TOP

Appendix

Appendix

209

China


:


Vehicle Production/Factory Shipment by Class and Segment
(2004-2010)

210

China


:


Passenger Car Production/Factory Shipment by Origin and Brand
(1998-2010)

212

China


:


Passenger Car Production/Factory Shipment by Maker and Model
(1998-2010)

214

China


:


Vehicle Production/Factory Shipment by Group, Maker and Segment
(1998-2010)

230

China


:


Vehicle and Parts Trade (Import/Export Volume and Value) by Category,
HS Code and Item (2005-2010)

252
※Please note that changes may be made to the final content of this publication.