HOME
> China Automobile Sales to Reach 40 Million in 2020
China Automobile Sales to Reach 40 Million in 2020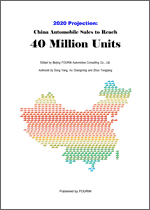 Publication
■ Aug 1, 2012
Format
■ PDF, 96 pages
Orders
■ Printable PDF:16,000 JPY
■ View-only PDF: 8000 JPY
Three industry experts give their insight on the prospects of China's automotive market in 2020
FOURIN Automotive Forum was formed on October 21, 2011. The impetus was the World Automotive Industry Forum which was held in Beijing by Beijing FOURIN Automotive Consulting on May 20 of the same year. Over 300 automotive industry experts attended the forum from China, indicating the Chinese industry's growing interest about information on the global automotive industry.
Amid rapid development, such as China becoming the world's largest vehicle market in 2009, at the forum we readily took up various domestic problems which confront China's automotive industry and in cooperation with Chinese experts we captured the essence of these problems and deepened discussions.
In addition, eyes were also turned toward the world at the forum, paying attention to automotive industry and market developments at various parts of the world. It has been decided that the forum will be held once in every three months.
This book is the audio recording script of the third forum which was held on April 6, 2012 and it is released with an intention to reach the general public. Lectures on the forum's theme of "China Automotive Market 2020 Prospect" were given by forum adviser Dong Yang vice-president and general-secretary of China Association of Automobile Manufacturers, forum chairman Xu Changming head of Information Resource Development at the State Information Center, and Zhou Yongjiang chair of Automobile Marketing Expert Committee. After their lectures, a question and answer session was held.
In closing, I would like to thank sincerely the three above-mentioned experts who kindly give their consent to the publication of this book, as well as the translators and China Machine Press.
May 2012
Beijing FOURIN Automotive Consulting
General manager, Zhou Jincheng

▼ Authors ▼
Dong Yang

(Vice-president and general-secretary of China Association of Automobile Manufacturers)

Xu Changming

(Head of Information Resource Development at the State Information Center)

Zhou Yongjiang

(Chair of Automobile Marketing Expert Committee)
▼Next
▲PAGE TOP

Leaping from the Growth Stage,
Building an Automobile Superpower‥‥Dong Yang


7

Outline of the 11th Five-year Plan

8

The Automotive Industry Is a Key Sector of the National Economy

11

Aiming to Become an Automobile Superpower After 10 Years

13

Challenges of the 12th Five-year Plan

16
▲Back / ▼Next
▲PAGE TOP

China's Vehicle Sales to Reach Around 40 Million Units
in 2020‥‥Xu Changming


25

China's Vehicle Market Growth to Continue Until 2023

26

First and Second High-growth Period

28

Second High-growth Period of China

31

China's Vehicle Sales to Reach Around 40 Million Units in 2020

33

China's Changing Vehicle Product Structure

37

The Imminence of the Oil Situation

40

Internal and External Industrial Policies

41

Will the 13th Five-year Plan Promulgate New External Industrial Policies?

44
▲Back / ▼Next
▲PAGE TOP

Vehicle Sales Volume to Reach 30 Million Units
by 2020‥‥Zhou Yongjiang


47

Chinese Economy's High Growth Period

48

Chinese Economy's Maturation Period

51

Three Characteristics of the Chinese Economy's Maturation Period

58

Future Prospects of China's Vehicle Market

61

Future Prospects of Commercial Vehicles

64

Service and Trade Developments

68

The Road to Becoming an Automobile Superpower

72
▲Back
▲PAGE TOP

Questions and Answers

77

One Vehicle Per Household As a Possibility

78

600 or 500 Vehicles Per 1,000 Persons

78

One Vehicle Per Household Is Possible

79

150 Vehicles Per 1,000 Persons Translates into a Vehicle Fleet of 200 Million Units

80

Industrial Development is Tailored to Social Demand

82

Protection of the Living Environment Is Equally Important

84

On the Vehicle Parts Sector

85

Importance of the Vehicle Parts Sector's Growth

86

National-class Development Platform

88

Government Support Policy Is Indispensable

88

BorgWarner's Project

89

DCT Plant Is Under Construction in Dalian

89

The Issue of Aging China

90

Too Early to Analyze the Impact of an Aging Population

90

What About the Future of New-energy Vehicles?

93

HEVs Disseminate Faster than EVs

93

Charging Stations

94

The Government's Own-brand Preferential Policies and Joint Venture Brands

95