HOME
> China's New-energy Vehicle Industry
China's New-energy Vehicle Industry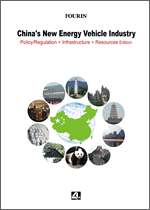 Publication
■ 2011.3.29
Format
■ A4, 191 pages
Orders
■ 120,000 JPY
(Excluding shipping and Japan VAT)
View PDF Pamphlet
Printable
About 620KB
FOURIN presents an up-to-the-minute survey on China's new-energy vehicle industry
Invaluable Intelligence and Data to Support Any Automotive Business in China
FOURIN's information gathering and research activity in China began in 1989. At that time China's annual vehicle production stood at only 580 thousand units. With more than 20 years of experience, FOURIN can provide in-depth reports on the Chinese automotive industry which you cannot find anywhere else.
While the world's attention flows towards China's automotive industry, where vehicle production and sales have become number one, the Chinese government has defined the newenergy vehicle industry as a national strategic industry, for which it looks to develop policies to foster the emerging sector ahead of other countries in order to acquire a leading hand in forming the next generation automotive industry.
For reasons behind China's government intention, it is considered that there is less resistance for the dissemination of new-energy vehicles since China is in the initial stage of motorization and a 20 million-unit two-wheeler electric vehicle market is already forming. Moreover, besides the country has abundant rare metal reserves which are necessary for electric vehicles, the new-energy vehicle industry is expected to bring China a great opportunity to narrow the technology gap with automotive powerhouse countries while hybrid technology is reaching a good level of maturity.
As such, Chinese automakers aim to surpass foreign rivals by concentrating resources on electric vehicles which require relatively lower technology level. Still, for popularizing electric vehicles ahead of advanced countries, it is necessary to identify currently existing major technological obstacles. Chinese automakers and suppliers still lack refining technology for materials required for lithium-ion rechargeable batteries, core technology for separators which accounts for 20-30% of total battery cost and small drive-type motor technology to name a few.
Meanwhile, please note that the definition of the new-energy vehicle used in this publication refers to vehicles using alternative fuel technologies and electrification technologies and differs from that of the Chinese government in which only plug-in hybrid electric vehicles, electric vehicles and fuel-cell electric vehicles are included.
It is firmly believed that this publication will serve as an invaluable source of information to bring a further understanding concerning the Chinese government's policies and Chinese automakers' business strategies of the newenergy vehicle industry.
Please click the following image. It is possible to see in a large size.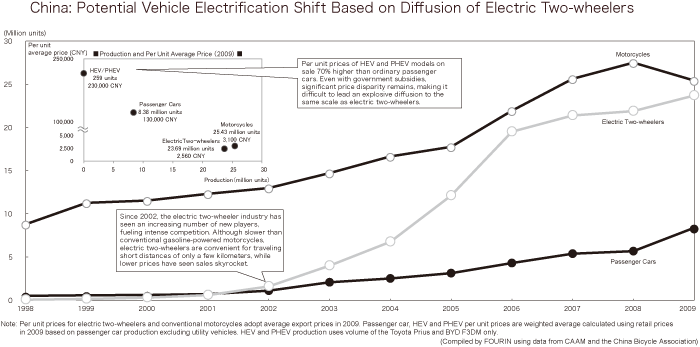 ▼Chapter Two
▲PAGE TOP

Chapter One

Policy/Regulation, Infrastructure Buildup and Resource Strategies
for China's New-energy Vehicle Industry


1

1.

Overview: Potential of New-energy Vehicle Diffusion in China

2

4

3.

Electric Two-wheeler: Need to Strengthen Regulations for Electric Two- wheelers in Response to Rapid Segment Growth

10

4.

Deployment of EV Charging Infrastructure Is Booming in China Without Standardized Technological Regulations

12

5.

China's Curb on Rare Earth Exports and Launch of Rare Metal Strategic Reserve Mechanism May Cause Trade Friction

16
▲Chapter One / ▼Chapter Three
▲PAGE TOP

Chapter Two

New-energy Vehicle Related Policies, Resource Development
and Recharging Infrastructure Buildup by Administrative Unit


21

1.Beijing


:

22

2.Tianjinp


:

Home of CATARC and Major Chinese EV, Battery Makers; Role in Prompting EV Business

24

3.Hebei


:

Promoting the EV industry Mainly in Tangshan, Aims for Annual Production Capacity of EVs to Reach 500,000 Units by 2015

26

4.Liaoning


:


Supporting Emerging Industries Including New-energy Vehicle, Aims for Annual Output of EVs to Reach 500,000 Units in 2015

28

5.Jilin

:

By 2012, Plans to Set Up a New-energy Vehicle Industrial Park in Changchun and Lithium-ion Battery Park in Liaoyuan

30

6.Shanghai


:


Accelerating the Dissemination of New-energy Vehicles, Aims to Achieve Annual Output of 300,000 New-energy Vehicles in 2015

32

7.Jiangsu


:


According to the Development Plan of New-energy Vehicle Industry, Aims to Have Annual Output of 150,000 Units by 2015

34

8.Zhejiang


:


Seeking Business Models for the New-energy Vehicle Industry, Aims to Put 20,000 New-energy Vehicles in Use by 2012

36

9.Anhui


:


In Addition to Subsidies from the Central Government, Hebei Aims to Popularize New-energy Vehicles Through Incentives of up to 20,000 CNY

38

10.Shandong

:

Enhancing Subsidies Mainly for New-energy Buses; Aims for 300,000-unit Capacity in 2015

40

11.Henan


:


Supports the New-energy Vehicle Development of Zhengzhou Nissan and Zhengzhou Yutong Bus, Aims for 50,000-unit Production Capacity by 2015

42

12.Hubei


:


The Industrialization of EVs Are Promoted Mainly by Dongfeng Motor, Taking the Lead in Development of Charging Infrastructure

44

13.Hunan


:


Runs a Trial on Hybrid Buses, Aims for Value of Production of the New-energy Vehicle Industry to Reach 12 Bn CNY by 2015

46

14.Guangdong


:


Besides an Additional Subsidy for the Purchase of
New-energy Vehicles, Aims to Achieve Annual Production of 200,000 Units in 2015

48

15.Guangxi

:

Backed by High Ownership of Motorcycles, Demand for Low-speed EVs Are Expected to Expand in the Future

50

16.Hainan


:


Aims to Put 1,050 New-energy Vehicles into Trial Operation in Haikou by 2012, Application of New Energy Expected to Be Promoted

52

17.Chongqing

:

Supporting Five Local-based Manufacturers, Aims for 460,000-unit Capacity in 2015

54

18.Sichuan

:

While Boosting Development of Rare Earth, Aims for Output of 20,000 New-energy Vehicles in 2012

56

19.Shanxi

:

Regarding Methanol Vehicle as the Key to its New-energy Vehicle Strategy, Aims for Revenues of 5 Bn CNY in 2011

58

20.Inner Mongolia


:


Having the Nation's Largest Rare Earth Deposits and Abundant Natural Resources, Regarded as One of China's Key Resource Bases

59

21.Heilongjiang


:


Set Up the New-energy Vehicle Production Base and
Began a Full-scale Process for Commercialization of
New Energy

60

22.Fujian

:

Sets up New Development Base for Control Systems; Boosts Support to King Long and South East

61

23.Jiangxi


:


Concentrates Efforts into Developing the World's Largest Lithium Oxide Mine; Industry Specialization of Rechargeable Batteries

62

24.Guizhou

:

Utilizing Rich Resources, Expects the Lithium-ion Battery Industry to Blossom into a 30 Bn CNY Business by 2014

63

25.Yunnan


:


In Kunming, One of Pilot Cities for the "Ten Cities, 1,000 Vehicles" Project, the Use of New-energy Vehicles are Promoted

64

26.Tibet


:


With Its Huge Reserves of Copper Minerals and Lithium Carbonate, Set Up the World's Largest Production Base of Lithium

65

27.Shaanxi

:

Cooperation Between BYD, Shaanxi Auto, Power Companies; Fosters Model New-energy Vehicle Park

66

28.Gansu

:

Increases CAPEX into Wind, Solar Power Industry; Contributes to Power Supply

67

29.Qinghai


:


Rich in Lithium Carbonate Resources which Accounts for One Third of the World's Total; Draws Global Attention as a Supply Base

68

30.Ningxia


:


Focuses on the Green Energy Industry, Expects Electricity Generated from Renewable Resources to Make Up 18% of the Total by 2020

69

31.Xinjiang


:


To Nurture the New-energy Vehicle Market, Plans to Establish Charging Infrastructure Which Is Comparable to Those of Coastal Areas

70
▲Chapter Two / ▼Chapter Four
▲PAGE TOP

Chapter Three

Selecting China's Technical Path in the Global Development
Race of Electrification


71

72

2.

Technology Roadmap of New-energy Vehicle Industry: Focuses on Fosterage of EV and PHEV Industries and Verifies Potential of Micro EVs

78

3.

Electric Two-wheeler Manufacturers: Need Lightweight Solutions and Switch to Lithium-ion Battery Along with Tightening of Technical Regulations

84
▲Chapter Three / ▼Chapter Five
▲PAGE TOP

Chapter Four

Automakers' New-energy Vehicle Development Race

91

1.SAIC Group


:


Takes Advantage of Expo to Step up New-energy Vehicle Devt; Aims for EV Mass Production in 2012 with Battery JV with A123

92

2.FAW

:

Considering Procurement of Hybrid Systems from Toyota; Focuses Resources on PHEV, EV

96

3.Dongfeng Motor


:


To Invest 3 Bn CNY over 5 Years; Kick Starts New-energy Strategy Aiming for Prod, Sales of 100,000 HEVs,
50,000 EVs

100

4.China Chang'an

:

To Invest 1 Bn CNY into New-energy Vehicles by 2012; Aims to Lift Ratio of Green Models to 30% in 2020

104

5.BYD Auto


:


Focus on PHEV, EV, Yet Weak Demand Remains Due to High Costs; Hedges Business Risk Across New-energy Industry

108

6.Chery Automobile

:

110

7.Geely Automobile

:

Focuses on Dissemination of Micro HEVs, While Assumes Cautious Approach on PHEVs, EVs

112

8.BAIC Group


:


To Begin Mass Production in 2011; Sets 2015 Manufacturing Targets for New-energy Vehicles and Basic Parts

114

9.Other Car Makers


:


Technology from Foreign Partners; Strenghtening Development with Local R&D Centers,
Overseas EV Makers

116

10.Venture Companies

:

Entries into the New-energy Vehicle Sector, Regarding it Great Opportunity to Expand Business

120

11.New-energy CVs

:

Devt Focus on Large Buses; Makers Progressing Toward Mass Production of Electric, Hybrid Buses

122

12.Unlicensed EV Makers


:


Tacitly Approved Unlicensed Low-speed EVs May Not Be Eligible for Special Categories to Legalize the Use of Low-speed EVs

124
▲Chapter Four / ▼Chapter Six
▲PAGE TOP

Chapter Five

Operation Trends of Electric Two-wheeler Manufacturers

127

1.Luyuan Electric Vehicle

:

Forays Into Battery Sector, Aims to Improve Its Status with Development Technology and Cost-Competitiveness

128

2.Jiangsu Xinri


:


To Sell 50,000 Small EVs in 2014, Works on Development of EVs by Streamlining Bases and Partnering with Other Companies

129

3.Jiangsu Yadea


:


Aims to Strengthen Product Competitiveness with Investment of 100 Million CNY in R&D

130

4.Shanghai Lima


:


Aims to Differentiate Products According to Geographical Situations Between South and North China

131

5.Shanghai Waopai


:


132

6.Shandong Incalcu


:


Newly Launched Electric Two-wheelers with Lithium-ion Battery; Focuses on EV Business in the Mid-to-Long Term

133

7.Zhejiang Qianxi


:


Promotes Development of Basic Components and New Products; Set Up a New Plant in Tianjin to Explore Market in North China

134

8.Tianjin Fujita Group


:


Established a Total of 2 Million-unit Annual Output; Plans to Speed Up Sales Network Expansion in Rural Areas in 2010

135

9.Giant Electric Vehicle


:


In Addition to Competitive In-house developed Drive and Control System, Aims to Expand Market Share by Increasing Investment

136

10.Geoby Electric Vehicle


:


Focuses on Production and Sales of Lithium-ion Battery Electric Bikes; Aims for 100,000-unit Sales in 2010

137

11.Supaq Electric Vehicle


:


Annual Capacity Reaches 3 Million Units; Plans to Focus on Market Development in Rural Areas in and after 2010

138

12.Aucma (Yinan) New
Energy Electric Vehicle

:


Focuses on Technology Development Such as Power Management System

139

13.Shanghai Lingzhitong


:


Has Two Production Bases in Tianjin and Wuxi; Focuses on Sales Promotion and Advertising Campaign in 2010

140

14.Nanjing Daluge


:


Posted a Deficit of 2.79 Million CNY in 2009, Aims to Improve Corporate Performance by Battery Development and New Product Launches

141

15.Shanghai Wolong


:


Relocated Headquarters to Shanghai, Focuses on Enhancement of Brand Image

142

16.Changzhou Hongdu


:


Aims to Expand Sales; Developed New Products for Rural Areas on the Back of Introduction of E-bikes Subsidy Program

143

17.Jiangsu Sinski


:


Entered into the Electric Two-wheeler Sector, Focusing on Enhancement of Brand Awareness and Business Expansion Overseas

144

18.Jiangsu Yinyang


:


Amid Fierce Product Competition; Aims to Differentiate its Products by Extending Cruising Range

145

19.Tianjin Mingjia Bicycle


:


Grew Rapidly by Selling Products through Foreign Retailers' Sales Network, Quality Problem Emerged as a Concern

146

20.Suzhou Small Antelope


:


Concerned about the Future of its Business After Dissolving Capital Alliance with its Parent Company

147
▲Chapter Five / ▼Appendix
▲PAGE TOP

Chapter Six

Business Conditions of Suppliers

149

China

:

150

China

:

List of Suppliers of Major Basic Components of HEVs and PHEVs

162

China

:

List of Suppliers of Major Basic Components of HEVs and PHEVs

172
▲Chapter Six
▲PAGE TOP

Appendix

Appendix

179

China


:


Factory Shipment of HEVs, PHEVs and EVs by Manufacturer and Model
(2005-2009, YTD Aug. 2009/2010)

180

China


:


Registrations of Domestically-made HEV, PHEV and EV by Administrative Unit and Model (2006-2009, YTD Aug. 2009/2010)

180

China


:


Registrations of Imported HEVs by Administrative Unit and Model
(2005-2009, YTD Aug. 2009/2010)

184

China

:

Ordinary Bicycle Production by Administrative Unit (2000-2009)

188

China

:

Production of Electric Two-wheelers by Administrative Unit (2000-2009)

188

China


:


Ownership of Motorized Two-wheelers Per 100 Households in Urban Areas by Administrative Unit (2002-2009)

189

China


:


Ownership of Two-wheelers Powered by Internal Combustion Engine Per 100 Households in Rural Areas by Administrative Unit (2000-2009)

190

China


:


Ownership of Two-wheelers Powered by Internal Combustion Engine Per 100 Households in Urban Areas by Administrative Unit (2000-2009)

191